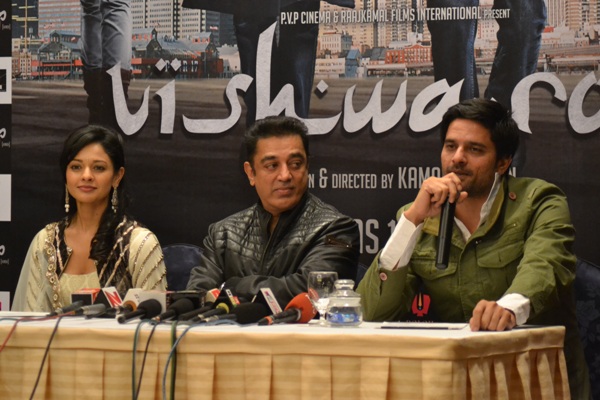 Nagpur Today News
After a short break from the histrionics onscreen the veteran actor Kamal Haasan is back again to scorch the silver screen with his method performance. The senior artist was in Nagpur on Saturday to explore new avenues for his upcoming movie Vishwaroopam. Known for his experiments with the kind of role he portrays on screen, Haasan has tried something new this time but in the marketing area of his movie. He would be releasing the movie through DTH a night before the film hit the theatres countrywide.
Kamal Haasan came to Nagpur with his leading lady in Vishwaroopam Pooja Kumar and co-actor Jaideep Ahlawat. He addressed the media at Hotel Raddison Blu here.
He informed that the DTH release idea would enable the viewers watch the movie in the comfort of their homes. He was also damn sure that the idea would not kill the single screens and multiplex revenues as he cleared that the viewing would be made available for a one time watch only.
He said, "For those who can't find the time to come to theatres, we are offering a home delivery service. But this will not affect our box office collection in any way, as viewers know that a larger than life spy thriller like this can only be enjoyed thoroughly on the big screen," he said.
The film has lot to offer in technological area as Haasan termed it as the first Indian movie with the advanced Auro 3D sound format.
Haasan who had limited himself to creative part of his movies has now stepped into the promotion and business this time as he projected its satellite release as the new business model.
The film is written, directed and co-produced by Kamal Haasan, who said that Vishwaroopam is a spy thriller which is sure to get every viewer's adrenaline pumping.
Haasan is also known for the intimate scenes with his heroines who are usually half his age or below. This time he has chosen an American born Indian actress Pooja Kumar to play female lead against him.
Excited with the chance to work with such an artist of repute like Kamal Haasan, Pooja said, "Though I was feeling bit down as I arrived on the set on the first day of my shoot but Kamal made me comfortable. It was wonderful learning experience working with him."
In most action films, the female lead plays an ornamental role and does not lend any substance to the overall narrative. But Haasan denied catering to this formula. "I like female parts so much so that I play them myself," he quipped. To which Pooja added, "I don't know about the others, but Kamal sure writes beautiful female characters. They always have substance and a back story. That's why, when I was offered this role, I didn't bother asking about the character or the film's story. I had full faith he would give me a meaningful part to play."
However, Vishwaroopam has technology as its USP but Haasan has emphasized much on its creative part. He said that the scientific advances has helped the filmmakers in realizing their imagination but the audience too have graduated to viewing Indian cinema of international style.
Kamal is playing double role in the movie. In one role he will be portraying the character of a trained Kathak dancer. When quizzed in his regard he puts his humor side forward saying that he would have roped in Rajnikant for this role but he would not willingly learn kathak.
Kamal also condemned the recent Delhi rape case which has sparked a furor nationwide, saying that such incidents are the result of our inaction. "We need to take onus for this tragedy and feel ashamed. Now this has to be changed by us only."