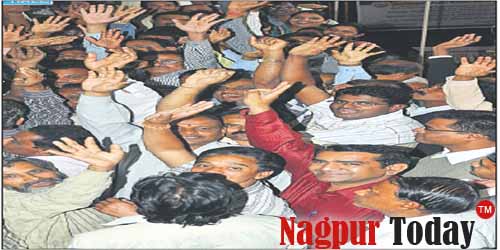 Nagpur News : More than 300 employees of the Rahstriyasant Tukdoji Maharaj Nagpur University, barged into the varsity office, on Thursday during a meeting of the establishment committee and created a major ruckus. The employee, raised slogans and even broke windows of the office, for their long standing demands. Employee also threatened to intensify their protest if demands were not met within 15 days.
It may be recalled that the employee had even gone on a day long strike on November 30. At that time vice chancellor Dr Vilas Sapkal and former pro vice chancellor Dr Gaurishankar Parashar had assured them to consider their demands. One of the main demands of the employees is that their due of Dearness Allowance as per the sixth pay commission should be paid from the general fund.
Since November the varsity administration failed to take a decision on the demand. Irked at this university employees lead by organisation president Satish Holey tried to enter into the office. Owing to safety concerns the doors of the office were closed shut. Holey during the agitation sent out a clear threat to the varsity administration that if the demands were not met within 15 days the protests would be further intensified. Employees raising slogans at varsity office.