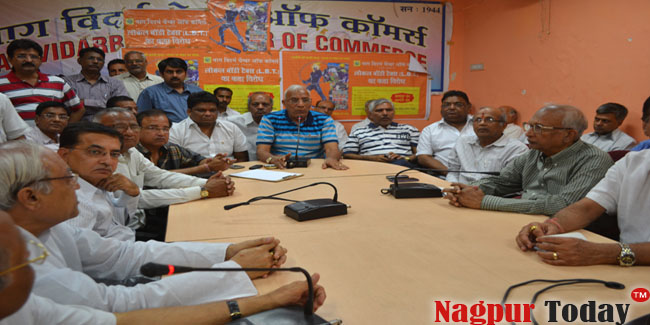 Nagpur News: The Nag Vidarbha Chamber of commerce (NVCC) in its meeting with Association Members affiliated with NVCC on Sunday 5 MAY decided to continue its indefinite strike. The strike is in its 14th day.
While talking to 'Nagpur Today' Dipen Agrawal, President, NVCC said, " After hearing all the Members of the Association a Resolution was unanimously passed to continue with the Indefinite strike.
Earlier a  meeting of LBT Virodhi Sangharsh Samiti was held in NVCC office on Sunday to apprise the members about the meeting of Trading community from all parts of State under the leadership of FAM president Shri Mohan Gurnani that was held with Chief Minister on Saturday with regard to abolition of LBT.
The members present were highly agitated about the decision of Chief Minister for not keeping LBT in abeyance till a final decision on alternate to Octroi & LBT is found in the interest of the state.
After hearing views of President / Secretary of all Trade Associations , it was unanimously resolved to continue the indefinite bandh till abolition of LBT.  The members were surprised that when Trading community is offering its services free of charge for collection of indirect tax revenue  from Citizens of Maharashtra & depositing the same with Government Treasury with putting in all its effort, the Government should also think positively about the number of Taxes & the revenue that is being imposed upon the trading community & the citizens of State.
The members were of firm view to intensify their stir against LBT till it is totally abolished.
It may be noted that Chief Minister Prithviraj Chavan on Saturday said Local Body Tax (LBT) couldn't be rolled back, but a committee would be set up to look into traders' grievances. Chavan met a delegation of traders and urged them to end their protest.
The state government has replaced octroi with LBT on April 1. The traders have been opposing the new tax and have said that its implementation would hamper their businesses. They went on an indefinite strike on April 1 which was suspended on April 6 after the divisional commissioner threatened to invoke the Essential Commodities Act. Later, chief minister Prithviraj Chavan gave an assurance to the traders that their problems will be sorted out.
The traders had again given a call for a two-day token strike on April 22 and April 23 claiming that their talks with the government had failed. The traders have threatened to go on a strike again on May 8, this time for an indefinite period, if the state government does not meet their demands.
Representatives of Following Trade Associations were present during the meeting :- The Nagpur Itwari Kirana Merchants Association, The Nagpur Paint Merchants Asson, Nagpur Bardana Merchants Asson, Canvassing Agent's Welfare Asson, Nagpur District Bricks Manufacturers Asson, Nagpur Vehicle Hire Purchase Association, Vidarbha Fly Ash Brick's Manufacturer's Asson, Vidarbha Power looms weavers Mominpura, Sadar Golcha Marg Dukandar Sangh, Sitabuldi Vyapari Sangh (Madhya), The Oil Merchants Association, The Nagpur Itwari Malyali Merchants Asson, The Wholesale Grain & Seeds Merchants Asson, The Wholesale Cloth & Yarn Merchants Asson, Kalamna Dhanya Ganj Adtiya Mandal, Kelibag Road Vyapari Sangh, Vidarbha Rural Industries Asson, Kalmana Vyapari Association, Footwear Merchants Association, Nagpur Cooler Manufacturers Asson, Bhartiya Swarnkar Samaj Asson, Navyuvak Sarafa Association, Jagnath Road Merchants Asson, Nagpur Vehicle Broker's Asson, Maharashtra Swarnakar Sanstha, Dharampeth, Sadar, Residency Road, Gittikadhan, Jaripatka, Khamla, Kamptee Road, Gokulpeth, Wadi, Bada Tajbagh, Manewada, Nandanvan, Jagnade Chowk Dukandar Sangh, Nagpur Ceramic Wholesale Asson, Kalmana Adtiya Mandal, Nagpur Cement Deler's Asson, Aloo Pyaj Vyapari Sangh, Netajee Market Asson, Nagpur Tent House Asson, Swarnakar Ekta Vyavasaic Sansta, Nagpur Cycle Merchants Asson, The Nagpur Chilies Merchants Welfare Asson, Electronics Merchants Asson, The Electrical Merchants Asson, Nagpur Electronics Dealer's Asson, Central India Surgical Dealer's Asson, Gaddigodam Dukandar Sangh, Home Appliances Merchants Asson, Hardware Dealer's Asson, Nagpur Timber Merchants Asson, Nagpur Furniture Trader's Welfare Asson,Nagpur Bidi & Tobacco Merchants Asson, Nagpur Agro Dealer's Asson, Nagpur Stainless Steel & Metal Merchants Asson, Nagpur Hotel Owner's Asson, The Nagpur General Merchants Asson, Nagpur Fire Works Dealer's Asson, Stone Merchants Asson, Swarnkar Ekta V. Asson, Nagpur Wholesale Hosiery Readymade Garments Merchants Welfare Asson, Nagpur Tea Merchants Asson, Nagpur Vahi Utpadak Sangh, Nagpur District Chemists & Druggist Merchants Asson, Nagpur Tiles Asson, Nagpur Tent House Asson, Nagpur Local Truck Owners Asson, Nagpur Watch Dealer's Asson, Nagpur Mill & Machinery Merchants Asson, Sona Chandi Oli Committee, Sitabuldi Main Road (Lohapool) Vyapari Sangh, Sitabuldi Merchants Asson, The Nagpur Itwari Kirana Merchants Asson, Steel & Hardware Chamber of Vidarbha, Megha Business C&F Super Dealer's Asson, Nagpur Consumer Products Distributor Asson, Travel's Asson of Nagpur, Vidarbha Computer & Media Dealer's Welfare Asson, Vidarbha Dyes & Chemical Merchants Asson, Vidarbha Food Industries Asson, Vidarbha Transport Commission Agent Asson, Vidarbha Dall Miller's Asson, Vidarbha Plastic Industries Asson, Vidarbha Plywood Merchants Asson, Nagpur Vehicles  Broker Asson, Octroi Free Zone Warehousing Co-operative Society Ltd. The Paper Trader's Asson, Printers Guild, The Nagpur Wholesale Poha-Murmura Merchants Asson, Automobile Dealer's Asson, All India (Nagpur)Transport Sangh, Credai-Nagpur Metro, Central India Coal  Dealer's Asson,  were present states in a press note issued by Shri Sachin Puniyani, Hon. Jt. Secretary of the Chamber.