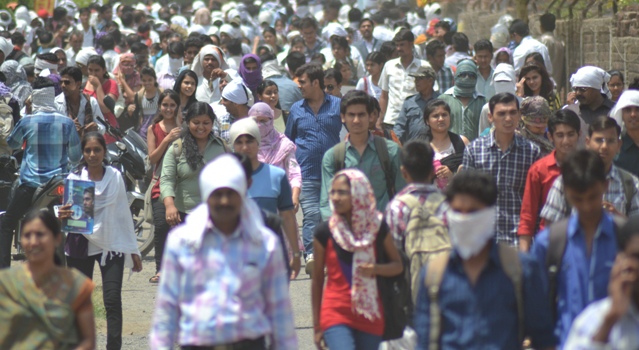 Nagpur News:
Amid scorching heat as many as 19360 NEET aspirants appeared in the Medical/Dental Admission Entrance Test at 27 Centres acrossNagpuron Sunday.
The NEET (National Eligibility cum Entrance Test) examination was held for the first time and is a National level common entrance exam for Medical and Dental courses. A candidate has to secure minimum marks in NEET UG held for the particular academic year besides obtaining minimum prescribed marks at the qualifying examination.
The Question Paper was of total 720 marks and there were 180 questions asked in total. Questions from 11th and 12th Physics, chemistry and biology covering the syllabus of State as well as C.B.S.E were asked in the Paper.
Speaking with 'Nagpurtoday' Himanshu NEET aspirant from Hislop college said, "Most of the questions asked were from 12th standard. And it was a good experience competing at allIndia level."
Since the examination was held for the first students had a lot of curiosity and doubts of how the paper will be. Talking to 'NagpurToday' Lumbini, Student,Dharampeth Science college said, " The Paper was ok it was not that tough, chemistry  and Biology was easy, however, Physics section was tough". Also, Aniket Bhivgade, student, Shivaji Science said that Paper was nice and easy. Physics was little tough.It would have been great if the examination were announced little earlier. We could have got more time for preparation.
A number of students were in fix over the bringing of self post card size photograph with them at the centre. Cause it was informed to them just few days before the examination. The photograph was to be pasted in the proforma and handed over to the invigilator. It was like carrying a burden students said.
M.K.Rai, Lecturer, IMTLEX Institute of learning while talking to 'NagpurToday' said, "The Paper was easy and critical. The questions were bookies as usual questions from books should have avoided. I am happy what we taught those question were in the Paper."
Over all the maiden NEET Examination was well received by the students.