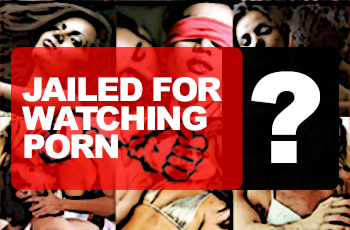 Nagpur News: As one of the Indore-based lawyers filed a petition in the Supreme Court, appealing to ban all porn sites on the internet in India even as he claimed that watching porn is one of the major causes of crime against women, youth in Nagpur counters the theory in more ways than one. Even the technicalities involved in banning the sites would not be feasible enough to serve the purpose.
Sources in Nagpur cyber crime cell informed Nagpur Today that even in the past such moves were initiated but it did not work out effectively. More recent was the case of savitabhabhi.com, which became hot favorite among Indians with its animated porn involving a married woman called Savita Bhabhi and her sex fantasies. The site was banned later, but now it is being operated again under different domain name kirtu.com.
Secondly, just banning porn sites would not help much as the users have access to various porn MMS and mobile content that have been already circulated in bulk.
Nagpur Today sought the reaction of the mobile generation of the city on how effective this ban could be, once it falls in place.
You can't suppress spring
–       Kumar Nihit, Student, PCE
Imposing ban on porn sites is not going to stop such atrocities to prevail as you can't suppress a spring and expect that it wouldn't bounce back. The only solution to this is giving fast verdicts to the culprits and people should start taking the responsibility of framing a society where every individual adores a healthy mindset and where respect for creator of mankind 'A Woman' resides.
Mindset needs change
–       Urmi Chakravorty, Lecturer, SBJITM
For people who wish to do such acts or still want to cross their limits can get watching such activities from anywhere. And I don't think banning on sites blocking social networking is any solution. What needs to be changed is the mind set of people and one can lean, send and perform it only if he or she is willing to adopt or inculcate such nature or thinking. Hence this won't affect much on my life because I strongly believe doing anything before time and before the right age misleads and has its own adverse effect.
Would have great effect
–       Kovil Mandaviya, Student
If this ban is effectively imposed and if watching porn online becomes next to impossible, it would affect in a huge way as in today's youth, watching porn has become a new trend and in a way it creates desperation in youths to indulge in sexual intercourse.
What about already downloaded stuff
–       Erin Kondoor, Student, PCE
Banning porn sites will never be a solution. It could just prevent watching of new porn videos and picture, but what about the porn things already downloaded by the citizen, it will go on circulating person to person, even not by government will.
All rapists are not porn watchers
–       Roshan Sethia
Banning porn would be pointless, because if people commit rape doesn't mean that they watched porn and did it. Infact the people committing such heinous crimes are inhuman and sick people who commit such atrocious crime on women. Porn simulates people's fantasies and imaginations. Watching porn triggers a person's violent nature to commit rape is absolutely ridiculous and more so, naive.
There are other ways too
–       Harsha Nandapurkar, Student, Raisoni.
I don't think this ban will be effective as the people who want to watch porn will watch it anyhow. There are more than one ways of acquiring porn but this surely will restrict porn viewing of certain age groups. Internet provides free access to porn and this will curb viewing to a certain age but will not completely stop.
All about upbringing
–       Richa Bhoyar, Centre Point College
There's no point in bringing such a law. Porn doesn't induce ill intentions in a person; it's your state of mind, which eggs you on to commit such ugly acts. A person's upbringing plays an important role in the way he behaves in his life.
Ban is needed!
–       Purva Kulkarni, VSPM Dental College
Today, I see many 15-year-old youngsters watching porn on internet. Talking openly about sex and porn is very normal in the western world, but it's not a part of our culture. So, the government should ban porn sites. But, authorities should ensure that the ban is properly executed.
Sensitise men
–       Anup Paliwal, CA Student
You can ban porn sites, but can you confiscate the already downloaded videos, which so many youngsters have in their hard disk, pen drives and mobile phones? What's necessary is to behave maturely and create awareness in school as well as college level and sensitise men about respecting women.
Difficult task
Saumya Jain (name changed), RCOEM
Porn sites should be banned in India, but it's going to be difficult to execute it. Porn has penetrated the Indian market completely, and every second college student has porn videos on his mobile. I think crime does increase because of such videos, with guys not ealizing the difference between fantasy and real life.
Crime will increase
–       Rishabh Sharma, SB Jain College
There are a million porn sites over the internet, and banning all of them is not humanly possible. Moreover, I think banning porn sites will increase the crime against women. There may be so many people who satiate their hunger for sex by watching these porn videos. If they are banned, they may try to indulge in rape and molestation!
Nothing to do with crime
–       Sagar Maheshwari, YCCE
It's insane to think that porn sites have anything to do with crime against women. Today, even girls watch porn videos. Have you seen any of them raping a guy or being involved in a crime against a man? If you ban porn, cases where sex crazy guys get involved in an affair just to have sex with a woman will increase, because they won't have any outlet to satiate their lust!