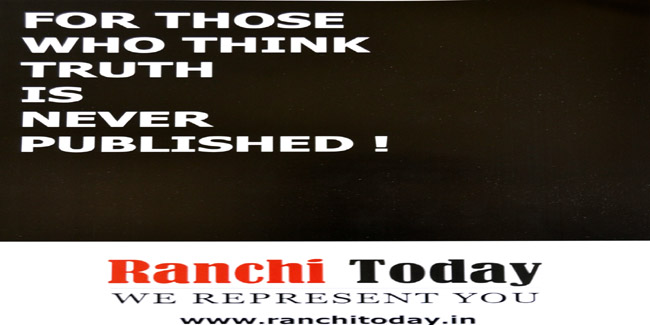 Nagpur News : In its endeavour to reach out to larger reader volume at pan India level, Nagpur Today – the most liked e-newpaper of Nagpur – has put its next step forward. The mission to provide hi-end information matching the fast paced turn of events has seen flourishing growth in the form of Nagpur Today and now it extends its successful arm to another city – the rising capital of the state of Jharkhand – Ranchi.
Presenting the news in new taste and temperament to the rustic city of Ranchi, the publication would see launch of Ranchi Today in association with Wake Up India Foundation, the leading social organization of Ranchi, on April 6, Saturday at 2.30 pm.
The young and happening along with the slow and steady lot of Ranchi would see their city exuding reverence in all the dimensions be it news updates, social and economic development and their own personal choices, as ranchitoday.in goes online from Saturday onwards.
The launch ceremony would take place at Hotel Landmark in Ranchi amidst the couple of programmes to mark the beginning of ranchitoday.in from the city.
The introductory pleasantries would be exchanged by Puja Sura, State Head, Wake Up India Foundation followed by official launch of Ranchi Today at the hands of Amitabh Choudhary, President of Jharkhand State Cricket Association (JSCA).
Suyash Varma will present the brief introduction of the website.
Chief Guest Amitabh Choudhary, President, JSCA and Guest of honour Kishore Tokekar, National Coordinator, Vivekanand Sharda Sati Samaroh and special guest Himanshu Mehta, senior advocate, High Court will also address the attendants at the ceremony.
Mr Shishir of WUIF will be extending vote to the thanks to the dignitaries.