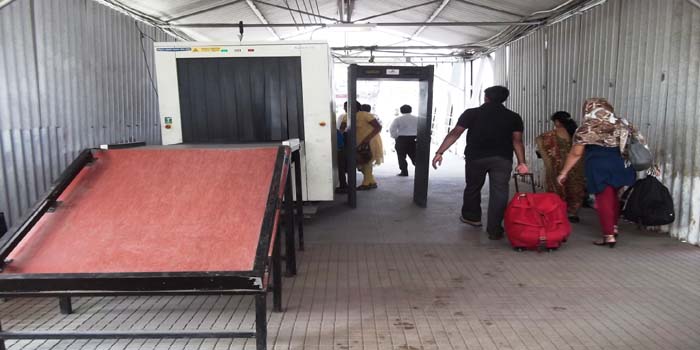 Nagpur Today: As the central railway zone General Manager Subodh Jain arrived the city and inspected various arrangements at Nagpur railway station, a quick check conducted by Nagpur Today revealed a host of loopholes in the security system posing serious threat to the security of passengers.
The detecting machines installed at the main entry points to the platform seem to be of little use as our photographer caught the travelers moving unchecked.
Whereas the entry point was lying unmanned, there was strictly no vigil maintained on the end of railway police. The railway policemen were reportedly more interested in getting the passengers hands on with the unauthorized luggage in passengers' compartments just to get their 'cuts'.
The passengers are made to pass their luggage through the detecting machines only at peak hours, and that too when the passengers enter the platform. On the contrary, no such practice is seen being followed when the outstation passengers exit the platforms.
Moreover, even the ticket examiners ignore most of the passengers moving out of the platform, as the rush accumulates on the arrival of trains.
The Western gate is however guarded to some extent but the Eastern gate appears to be free flowing point for all. The ticket examiners are rarely traced at the point where the stairs end upside. As regards security nothing much is done to keep a check on this point.
While this invites serious threat to the security at railway station, the ignorant railway officials have turned blind eye to the situation.
Worth mentioning is the fact that there are two different entry points at the Western end of the station. While the central entry was equipped with detection system, the other gate leading to the ticket counters remain off guard for of the time, leave alone the machine.
Grimmer is the situation during night hours, when anyone is free to enter and exit the platform, without even having the proper platform ticket. Under such circumstances the night time could become the best operation hours for anti-social or criminal elements.