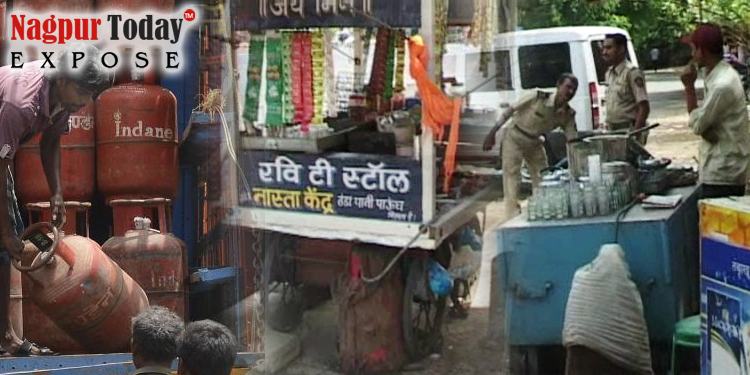 Nagpur News:Even as the CBI sleuths raided various gas agencies and LPG godowns across the city on Wednesday, checking for the complaints about foul play in the delivery system, diverting of domestic cylinders to commercial purpose and supply of underweight cylinders to the customers, another side of the story reveals the blatant violation of the supply rules and prevailing malpractices in connivance with the retailers and distributors.
In a shocking revelation, Nagpur Today has found that a major chunk of LPG cylinders meant for domestic purpose are rampantly being sold in grey market. And the buyers extend from small and big caterers to a host of canteen owners operating from various government offices, colleges, food joints and restaurants. This amount to more than 80 percent of the total number of big and small commercial establishments in the city.
A quick check at the kitchens of many famed restaurants opened a can of worms indicating severe flouting of norms both by the food chain owners and the distributors as well. While the LPG distributors are making huge profits by channelizing the domestic cylinders to non-eligible users through vendors, the actual customers keep beating about the bush to fulfill their kitchen needs. Going by the bulk flow of domestic fills in black market it became evident that there is no shortage of supply but the malpractices that is crashing the delivery system.
Large scale consumption
A caterer running a canteen at a government educational institution admitted to using bulk quantity of domestic LPG cylinders. He had kept one commercial cylinder at his place just for displaying purpose in case any surprise check is done, whereas his actual consumption came from domestic cylinders. "We require one full cylinder every two days and buying the commercial cylinder would be too costly, given the quantum of consumption. We are better off paying Rs 1000-1200 for each domestic cylinder. Even though this too is costly in view of the recent cap on subsidized LPG cylinders that allow only six cylinders at subsidized price in a year, it is beneficial than using commercial fills", he said, adding that sometimes even these cylinders are underweight but we have to buy it anyway in order to reduce our production cost. He informed that he routinely bought 15-16 domestic cylinders in a month but the consumption rose to about 20-25 cylinders in the wedding season.
Quizzing on how he manage to get such bulk quantity of domestic fills, he quips, "That is no problem altogether. Even we could get quite more than this. The vendors keep calling us about our requirement. More often we have to refuse them when we do not have pretty good work orders."
Another caterer on condition of anonymity informed that he received call from the dealers too often about the requirement as he dubbed himself as the "premium customer."
Dealers operate through vendors
Meanwhile, a team of Nagpur Today also visited an agency of Hindustan Petroleum gas agency in Khamla. Just at the crossing near the office were two vendors conversing on mobile. The scribe inquired them about the availability of the cylinders. They appeared more than willing to give us but at the price of Rs 1100 each. He said, "kya karenge sir, dealer ka share bhi dena hota hai. Pura hisab dena hota hai. Hume to 50 rupaye hi bachte hein (What should we do sir, have to pass on the share to our dealer. We have to update the dealer about every transaction. We are only given Rs 50 for each cylinder)".
Now this one's tricky
Most of the restaurant owners and caterers have come up with safer idea to freely use domestic supplies. They possess a device to transfer gas from a cylinder to another, through which they smartly pour the fill from domestic cylinders to commercial cylinders. One of the vendors informed that the device comes cheaper, readily available and easy to use. The mechanism involved too is very simple. Just a nozzle is fitted and connected to both the cylinders. While the full cylinder is kept inverted over the empty one, it takes hardly 10-12 minutes to transfer the entire volume, he said. Similar device is used for transferring the gas to empty domestic cylinders. "We make five cylinders out of four by using this, but it is done without knowledge of the dealer. Dealers are only interested in bulk supply to the grey market, so why not we make little profit out of this." he revealed.