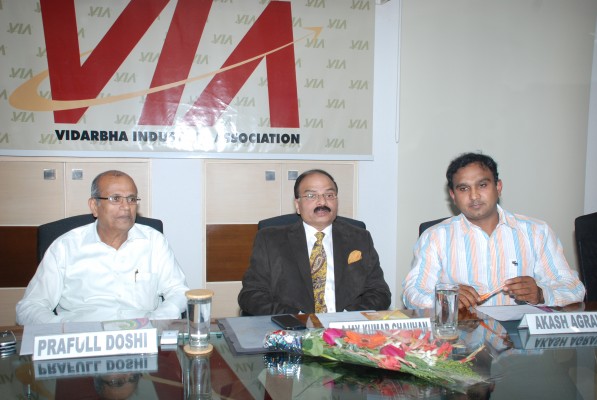 Nagpur Business News : VIA organised a programme on "Competitive Law Enforcement and Compliance in India: by Shri A. K. Chauhan, Director General, Competition Commission of India on 23rd November 2012 at 4:00 pm at VIA hall.
The Speaker Shri A. K. Chauhan, Director General, Competition Commission of India said CCI (Competition Commission of India) is an autonomous body, keeping in view of the economic development of the country, for the establishment of a Commission to prevent practices having adverse effect on competition, to promote and sustain competition in markets, to protect the interests of consumers and to ensure freedom of trade carried on by other participants in markets, in India, and for matters connected therewith or incidental thereto.
The objectives of Competition Law have been further highlighted in a recent judgment delivered by Hon'ble Supreme Court as:
"The main objective of competition law is to promote economic efficiency using competition as one of the means of assisting the creation of market responsive to consumer preferences. The advantages of perfect competition are three-fold: allocative efficiency, which ensures the effective allocation of resources, productive efficiency, which ensures that costs of production are kept at a minimum and dynamic efficiency, which promotes innovative practices."
He said the CCI has jurisdiction to all over India except Jammu and Kashmir. He gave information that the objective of the CCI is to
 Make the markets work for the benefit and welfare of consumers.
 Ensure fair and healthy competition in economic activities in the country for faster and inclusive growth and development of economy.
 Implement competition policies with an aim to effectuate the most efficient utilization of economic resources.
 Develop and nurture effective relations and interactions with sectoral regulators to ensure smooth alignment of sectoral regulatory laws in tandem with the competition law.
 Effectively carry out competition advocacy and spread the information on benefits of competition among all stakeholders to establish and nurture competition culture in Indian economy.
He said a person can give any information in regard to the dominance market by any individual or corporate entity to CCI in a simple way by giving an application addressed to DG. The Speaker Ajay Chauhan addressing the industrialist and VIA members gave detailed information in respect of procedural aspect of application or information to be given to CCI. Once the prima facie case is being accepted by CCI then the CCI carried out investigation trough various source which includes all evidence whether it might be oral, electronic, documentary etc. There are cases being investigated by CCI which includes famous case of Abuse of Domains, case of bidrigging, case of IOC, case of explosives, case of cement etc.,
Prominent members who were present were Ashit Sinha, Sudhir Paliwal, Adv. Tushar Mandlekar,  Industrialist from BMA and VIA members.
At the outset, floral welcome of Ajay Chauhan and welcome address was done by Prafull Doshi, President –VIA, introduction of the speaker was done by Puneet Mahajan, Member of VIA, opening remarks was done by Akash Agrawal, Hon. Secretary – VIA, vote of thanks was done by Hemant Ambaselkar, President- BMA and the programme was conducted by Puneet Mahajan, Member VIA.