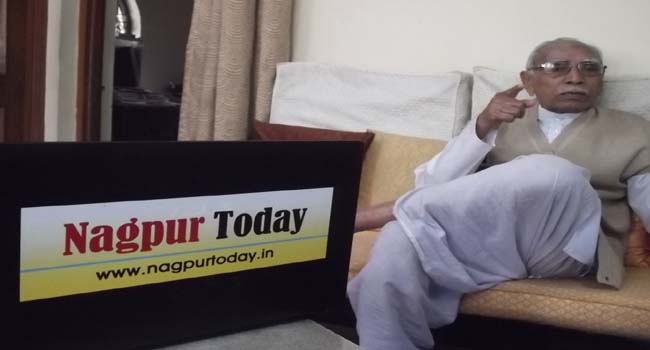 Nagpur News : He has that rare art of smiling on life as he approaches towards completing 90 springs of his life next month. With an active presence of mind, he deems himself younger than what he was when he became an active member of Rashtriya Swayamsevak Sangh many years back.
From an Editor of a Marathi daily to the full fledged Sangh ideologists, M. G. Vaidya has had a successful stint in expressing his views through his fire brand articles and moving speeches. The renowned Hindu ideologists of Nagpur also knows the art of applying political diplomacy to his expression while speaking on sensitive issues like the one going on in its so called disciple party BJP.
Without naming senior BJP leader LK Advani, Vaidya indicated that every leader has his fixed career span but some people do not want to retire. He was also anguished over the BJP's 'to and fro' stand on the Ram temple issue in Ayodhya, asserting that RSS is firm in its determination to build the temple.
In an exclusive interview with Nagpur Today Senior RSS leader M.G. Vaidya took time to express his views on our volley of questions. Excerpts from his interview,
Nagpur Today : Experts  in the politics believe that BJP's senior leader LK Advani should take retirement now?
M.G. Vaidya: So what's surprising in that? I took the retirement, Raju Bhaiya when he was alive also retired at certain time. Balasaheb Deoras also made peace with retirement. So everybody has his fixed period of retirement.
Nagpur Today : Is there any conflict between RSS-BJP over Ayodhya temple issue?
M.G. Vaidya : No it is not like that. RSS has been always firm on its stand to construct temple in Ayodhya but I do not want to comment over why BJP backs off too frequently. Better it should be asked from BJP only.
Nagpur Today : Is the hierarchy dominating the political parties at present?
M. G. Vaidya : Yes, most of the parties are now trying to push their family members forward. This includes Congress, Shiv Sena and Samajwadi Party leaders too. However the situation is not such in BJP.
Nagpur-Today : What's you say on the recent controversy surrounding ex-BJP Chief Nitin Gadkari and the IT officials quizzing him in the aftermath of his critical statement against IT sleuths?
M.G. Vaidya : There's nothing to create so much hype about it. Gadkari has cleared it much before the BJP's national president election that he is ready to cooperate in any inquiry or interrogation in view of the allegations leveled against him. So the IT officials quizzing him is just a part of the process.
Nagpur-Today : There's so much disturbance going on within BJP as every leader is trying to make his point. There's clear mismatch of thoughts among senior leaders?
M. G. Vaidya : Look, you need to ask this from the BJP's concerned person. I have no say in their internal matters.
Nagpur-Today : So now RSS has no say in BJP's decision making as it earlier used to be?
M.G.Vaidya : RSS and BJP are two different parties. Both have different constitutions and finances. So why RSS would acquire dominant position? Even we do not have any say in Vishwa Hindu Parishad. It is only when these party men seek suggestions over some important matters that RSS comes up with its piece of advice. Also I am not the RSS spokesperson to quote anything further in this regard. I used to be active in RSS about 10 years back.
Nagpur-Today : Why you refrain from speaking anything about BJP these days?
M.G. Vaidya : I am only political analyst and write articles. I do not comment anything on mere speculations. Leave aside speculations.
Nagpur-Today : But so is politics…based on speculations.
M.G. Vaidya : I do not have any information about BJP.
Nagpur-Today : Ok so what's the phase RSS is currently going through? Is it lacking youth power within?
M.G. Vaidya : Why? How can you say that? I am young blood in the party (laughs). Jokes apart, if you come to any of our training sessions organized every year in various parts of the country then you will realize how many youths are currently associated with RSS. Even the age criteria for being a part of such training are 18 to 40 years. This means you would not see anyone below 18 years and above 40 years of age in such training sessions. These are mostly organized between May-June.
Nagpur-Today : What's the status of such training in Nagpur?
M.G. Vaidya : From March onwards you would see training at Reshimbagh ground for good over a month.
Nagpur-Today : What's your routine now a days?
M. G. Vaidya : I will complete my 90 years next month. I am not physically that much active now. I do not drive car or scooter anymore. So now I am not the authorized person to have any comment from the side of any party.
As told to Nagpur Today
Read Full Transcript of Interview on Saturday here on Nagpur Today