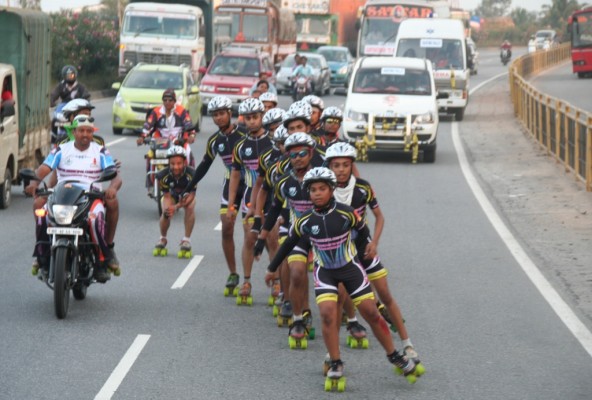 Nagpur News: The skating rally organized by NMC to mark Swany Vivekananda's 150th anniversary reached the city of Anantpur today, the fifth day of the rally, having left Bengaluru in the morning.  The rally had moved on to Bengaluru from Salem on the 4th day of its journey from Kanyakumari to Nagpur at 8:30 am in morning yesterday from Salem's Jain Bhavan.
The rally had started from Salem after garlanding  the statue of Mahatma Gandhi by the Convener and  standing committee chairman Dayashankar Tiwari and members of the Mosquito Net Manufacturer Association headed by  Murli Manoharji Choudary with his team members  Ashok Jhunjhunwala,  Vinay Kumar Jain,  Nemichand Prajapati,  Sandip Agrawal,  Chandrasekhar Jhunjhunwala ,  Anand Kumar Lambiwala,  Krishna Raj¸  Murari Sharma, Mr. Saravan,  Sandip Jhunjhunwala  and Rajendra.
On the way, all members of the rally were presented with a copy of the Bhagawat Gita and Sundarkand by senior members and delegates from Bhartiya sanatan seva samiti headed by  Ramnaresh Tripathi,  Shyam Sharma,  A.T.M Jagdishan and N.R.Shekar. Organizer of the rally Dayashankar Tiwari addressed this felicitation function. Saying, "Our religion says that there are 33 crore gods in this country, whoever may have said this sentence at that time must have seen 33 cores. Our former President Hon. APJ Abdul Kalam said that in the whole world, India is the only country which has 60% youth of the  total population, which can convert India into a super power. If we want to fulfill his dreams, the only path is to build nation by building character. Swami Vivekanandji had said that if we make ourselves pur instruments of good thought, these will enter us. Evil thoughts are like microbes which germinate and increase when they find a suitable, evil soul. Let positive, strong, helpful thoughts enter the brains of children. Strength is life. Weakness is death. Common move towards the path of Swami Vivekananda."
When the rally reached Bengaluru, it had completed 681 kms of its total path.