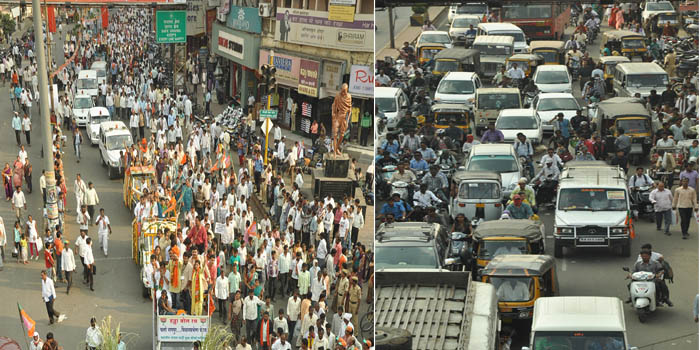 Nagpur News : Commuters in the city faced a tough time rallying between the heavy traffic that emanated from the BJP rally and the Urs procession on Tuesday. All the major roads leading to Vidhan Bhawan near RBI square and to Bada Taj Bagh on Umrer road remained literally choked with masses pouring in from all over the state.
The BJP had called for a massive protest rally which witnessed party leaders and grass root workers accumulated in the city. Though the official figures are yet to come, an estimate put the number of BJP workers participating in the rally at around 1.5 lakh.
The roads remained crowded with pedestrians, motor cycles and scooter rally bearing the BJP flag. The traffic cops remained on their toes making unsuccessful attempts to control the chaotic fleet of vehicles. The prominent areas of the city like Variety Square, Ramdaspeth, Dharampeth, Diksha Bhoomi Square remained filled with the people dropping in the city to be a part of the protest against the state government. This apart, morchas from various political and non-political organizations occupied the streets congesting the traffic.
The yearly procession "sandal" for the Urs at Taj Bagh was also taken out on Tuesday passing through various areas of the city. This took the traffic situation from bad to worse.
Same was situation at bus stand and railway station. The buses went overcrowded while the train ran packed in view of the BJP's rally which spelled major success.
However, the local commuters were at the suffering end of the entire happenings that left them in tizzy, struggling for the traffic clearance. Vinod Shivhare, a bank employee having his office at Kingsway said that while it takes hardly 20 minutes for him to reach home at Pratap Nagar on normal days, good one hour was squeezed out as he had to stop at major signals for most of his time on Tuesday.
Aarti Gupta works at a private office in Dharampeth. She too faced the similar adversity as the Urs procession marred his way at Medical Square.