Nagpur: Round Table India Conducts a personality development session for their Nagpur members. Charter Chairman of Ludhiana Round Table 188 and Round Table India's National Facilitator Narender Agarwal were in Nagpur to conduct a leadership and personality development event aptly titled "A Proud Tabler".
Unlike other seminars and meetings where the speaker delivers a speech or is busy in trying to impart knowledge, Narender Agarwal had an interactive session with the Tablers involving every Tabler in the session.
Most of the Tablers of Nagpur city claimed that the session of this Leadership and Personality Development Conclave was definitely very beneficial and enjoyable at the same time.
National Vice President of Round Table India LMF Tabler Piyush Daga, Area III Chairman Tabler Aditya Jhunjhunwala and Area Honorary Tabler Sharad Agrawal played a pivotal role in ensuring that the two-hour session was beneficial to all tablers in the city.
While talking with the members of the press, Facilitator Narender Agarwal said that this Leadership and Personality Development Events are organized with the sole objective of Developing Leadership, Personality and Professionalism of its own members. Narendra Agrawal said that a number of similar programs are organized at City, State, National and International Levels from time to time.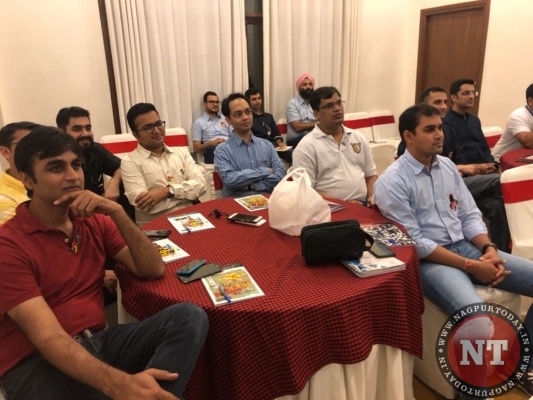 This conclave 'A Proud Tabler' organized in Nagpur is being organized for all the Tablers of the city.
Since the tablers who were attending this conclave 'A Proud Tabler', included new, old and prospective Tablers, comprehensive details, aims and objects of Round Table India was explained. Concepts of how every Tabler can contribute effectively towards better functioning of the Tables were discussed and explained in this conclave. It was also explained how Round Table provides a platform from which every proud Tabler can be benefited.
Facilitator Narender Agarwal told News Alcove that every Tabler is unique and brings with him certain innate and certain acquired skills, acumen, expertise and knowledge of his own business or occupation. Effectively channelizing these skills and expertise to work towards achieving the goals and objectives of the organization is all this Leadership and Personality Development Conclave is all about.
Apart from the Tablers of Nagpur Round Table 83, Nagpur Spirits Round Tanle 258 and Nagpur Tigers Round Table 299, Visiting Tabler Pinank Doshi from Mumbai also participated in this Leadership and Personality Development Program.