Nagpur Ladies Circle crowns its new headboard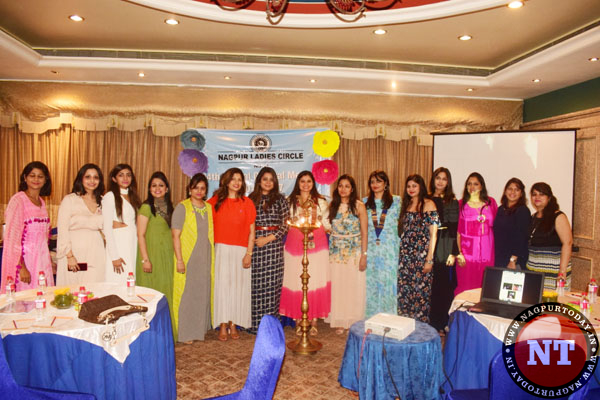 Nagpur Today.
It was an Annual General meeting of the sort but it turned out to be a perfect head turner. The members of Nagpur Ladies Circle appeared in their pleasing best to pick up fresh members in the annual election at the meeting.
Most charming as ever Nagpur Ladies Circle Outgoing Chairperson- Esha Agrawal passed the jewel to incoming Chairperson Disha Goplani. The event was held at Hotel Tuli imperial recently. AGM is an annual feature of Nagpur Ladies circle in which the new headboard is crowned every year. This apart, the activities of last circling year were also presented at the AGM.
Among the newly appointed members include Secretary Dr Sakshi Diwanka, Vice Chairperson Deepti Nangia, Treasurer Esha Agrawal.
The evening was a real delight as the members bond over food and constructive talks.
National President Veda Bestin was the chief guest on the occasion who set the flow by lightning the lamp. She also presented her project report for 2016-2017. These mainly include projects accomplished round the year. Among the most significant projects that were undertaken, included the awareness activities like good touch bad touch, dental hygiene, In addition to it, Donation was also made for a computer lab.
To top it all a welcome speech by the chief guest and incoming chairperson captivated all the luminaries present on the occasion.
Towards the end of the event, Sakshi Diwanka gave it a memorable culmination by extending her vote of thanks.
Others circlers present were Esha Agrawal, Jhanvi Patel, Jivika Rai, Sumati Agrawal.
Seargenting was presented by Deepshika Thankur.