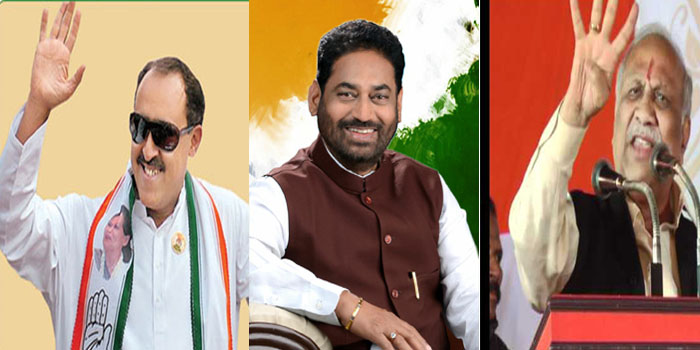 Nagpur News: Preparations have been accelerated for the upcoming Lok Sabha and Vidhan Sabha polls in Nagpur. However, the key decisions rest on the respective party's high command. Pitching of candidates has remained a secret game as usual. The final cards are revealed in the eleventh hour only. Sometimes the strategies work out well, sometimes it fails drastically. Eventually the bet stays with prioritizing the voters. Similar situation is being seen in various Nagpur Assembly constituencies these days.
Poll analysts believe that among all the assembly constituencies in Nagpur, BJP holds substance in south-west constituency only whereas rest favours Congress.
Though West Nagpur assembly seat was the Congress forte but the party paid heavy price for fielding outside candidate in this assembly seat for the last three consecutive elections. As a result the annoyed Congress supporters got BJP MLA elected for the three times. Be it Ashok Dhawad, Ranjeet Deshmukh or Anees Ahmed, all the three candidates who contested from this seat were not able to put up their efforts for the seat. This resulted into the defeat of Congress.
Experts are of the view, had the Congress landed local candidate on the West Nagpur assembly seat, the party would have registered win to a thumping margin of 25,000 votes. It is irony on the part of Congress that though the name of local aspirant emerges till the time tickets were finally issued, the final announcement threw different face on all the occasions. It is speculated that if the inner rifts within Congress circle is sorted out and the leaders arrive at common decision to pitch local candidate for West Nagpur, the Congress may hope for its win. At present, the local candidate Vikas Thakre along with outside candidate Rajendra Mulak is vying for the ticket from this constituency.
Similarly East Nagpur Assembly Constituency has been the stronghold of Congress but so distressed were voters with the policy of then Congress MLA Satish Chaturvedi that they ousted him with record margin of votes. The cornered Chaturvedi regained electoral composure after three longs years only to find some of his supporters attached to MLA Krishna Khopde while some shifted to the Muttemwar clan considered as his political archrival within Congress. Anguished Chaturvedi then formed Hanuman Sena. On the other, BJP roped in Krishna Khopde who had not gone beyond corporator's election before this move. Luck drew favors on him and he won, but Khopde is still gauging the length and breadth of East Nagpur assembly area. As he completed three years, he started proclaiming Satish Chaturvedi as the ideal candidate. Khopde even went on to praise Chaturvedi in his own style by commenting that "howsoever he was but he did not demand money for getting the work done."
Central Nagpur Assembly Constituency is also the bastion of Congress for its Muslim concentrated populace. Just before the last elections, the Congress MLA representing this seat requested for candidature from West Nagpur. Getting rid of his people was seen as the prime reason behind this move. But the manipulation went horribly wrong as Anees Ahmed faced worst debacle of his life from West Nagpur. Both the Congress and BJP fielded non-Muslim candidate from Central Nagpur which lent way for BJP candidate Vikas Kumbhare's win but he could not maintain the position till long. Meanwhile, Ahmed has returned to the central constituency to regain his lost fort. He is more recently seen in public programmes and other rallies.
South Nagpur Assembly constituency is quite unpredictable these days as "now Congress then BJP" perspective often develops here. However, this election apart from Congress and BJP, other parties like Shiv Sena, NCP, RPI and BSP are also eyeing this seat. Congress has been unbeaten at this seat for the last two elections. The corporators of BJP and Shiv Sena are looking forward to cash on their expanding base in the constituency, while RPI and BSP are banking on dalit votes to open their accounts in the area. Congress boasts of ruling MLA Dinanath Padole and advocate Abhijit Wanjari as its strong candidate to field. On the other end, Nagpur MP Vilas Muttemwar deems this seat fit to launch his son Vishal Muttemwar's political career through projecting him as an aspirant from this seat. However, the party hi-command would take final call on whom to pick from the fray.
In the North Nagpur and South-West Assembly constituencies, the MLAs have already acquired stable position and can vouch to win with confidence. In North, Nitin Raut of Congress and in South-West Devendra Fadnavis of BJP is ruling the roost. Probably either of the parties would not dare to field the candidates other than them or without their permission, on their respective ruling constituencies. Speculations in Fadnavis camp are rife that he may wish to field his close associate and corporator Sandeep Joshi from his bastion as he is already shouldering the responsibility of party's state president. Congress, on the other hand, still does not have right candidate to battle against them.
It is viewed that if Congress overcome mutual rifts and leaders come across for unanimous strategy to hit the election, it may win over 5 of 6 assembly seats. But the fragmented efforts would certainly cost the Congress dearer. Which turn the political equation would take, only time will tell.