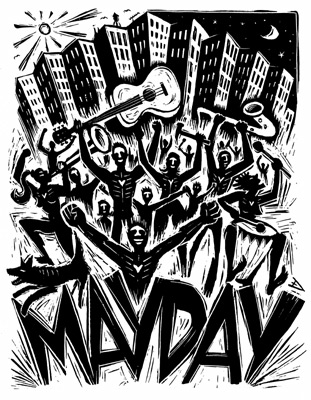 Nagpur News: It's first day of May, significantly, May Day or International Labor's Day, considered as the day on which laborers across the world cherish their year of hard work in the form of celebration. The day is also observed as Maharashtra Day – the day of the foundation of the state. This time too laborers will rest but unlike other years this rest comes as forced one in Maharashtra including Nagpur. With the ongoing traders' strike against Local Body Tax in Nagpur, laborers are seen struggling to get petty work just to arrange for two square meals. Laborers were rendered jobless as wholesale markets in Itwari and other trading establishments in the city remained closed for over last nine days.
Now the laborers are facing the worst as they find it too difficult to keep the house fire burning and feed their families.
A laborer Asharam Yadav sitting idle for want of work at Itwari along with his fellow beings appeared lean and weak with more lines of worries on his forehead. He said with a heavy heart, "We are not getting work for past some days in the wake of traders' strike. Whatever ration we had is now ending up. If the situation persists then it would not be possible for us to arrange food for our families."
Another laborer at Deputy Signal Bahadur Lal lamented, "We thought that strike would not last so long. Rest is only good for us just for a day or two. Now we need to work. We could not sit back and relax and leave our families to starve."
Laborer Lala though appeared quite anguished over the prevailing situation as he pointed out that traders are not going to affect much as they are just cooling off at their cozy homes and enjoying IPL. Though they may suffer loss but the loss that is being caused to us is very serious. Our survival is at stake."
Desperately looking for some work to get atleast handful of money for family, laborer Totaram said though May Day marks significance of laborers in the development of nation but here the entire community of laborers are on the verge of starving. "How could be celebrate under such pathetic state," he added.
Another laborer Anand Yadav who works as lifter at Anaj Bazar said now he would have to certainly look for work. "Since morning I have been sitting here but no work come as yet," he said.
May Day
International Labor Day found its roots in Chicago where it began in 1886. The laborers were demanding eight hours of work on daily basis and a day off from work in a week. 80 nations around the world observe May day every year.