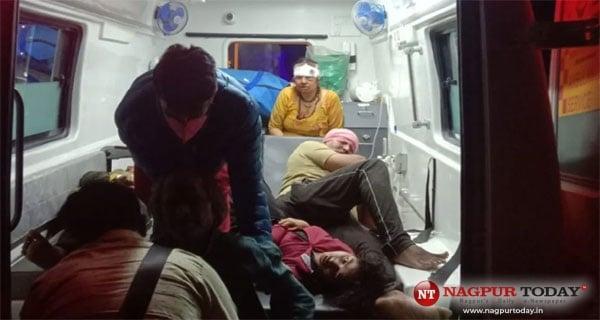 Nagpur: One pilgrim from Nagpur district was killed and seven others were injured as the Mahindra Max passenger vehicle they were travelling in fell into a 150-meter gorge near Yamunotri National Highway, Barkot in Uttarakhand on Thursday night. In all 3 people died and 10 passengers were injured in the accident.
The Nagpur passenger killed in the mishap has been identified as Ashok Mahadevrao Shande(40). Two others killed are Jayshree Anil Kosare (23), a resident of Tumsar, District Bhandara, and Poor Nath Bhopal Nath (vehicle driver), resident of 27/7 A, PMGP Colony Mahakali Road Andheri West, Mumbai .
There were 13 pilgrims, including 9 adults and 4 children, in the vehicle including the driver. Out of which 3 people including the driver died on the spot. The 10 injured pilgrims have been admitted to the Primary Health Centre, Barkot. According to the information received, the passenger vehicle was coming from Yamunotri towards Barkot. Suddenly the driver lost control and the vehicle fell into the ditch 150 metres down.
As soon as the information about the accident was received, the police from Barkot and SDRF left for the spot for relief and rescue operation. Due to nightfall, the police had to face a lot of difficulties in the rescue work. After hard work, the police rescued the injured and sent them to Barkot Health Centre in an ambulance.
The bodies of the deceased have been sent to the Primary Health Centre at Naugaon for post-mortem. The said vehicle was coming back from Yamunotri Dham towards Badkot.
The injured persons are Amu Ashok Shande (4), Rachna Ashok Shande (38), Dinesh Kishan Vadaik (35), Monika Balkrishna Kosare (24), Krishita Ashok Shande (15), Koshi Prashant Dorve (10),Lakshmi Balkrishna (46), Prerna Prashant (8), all residents of Nagpur district, and Balkrishna Jitu Kosare (41), resident of District Bhandara.