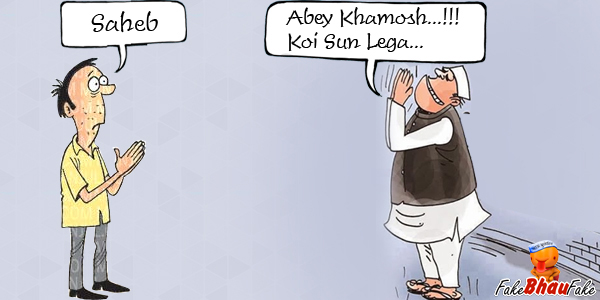 Rattled by the spying incident of Gujarat linking one 'Saheb' into the controversial affair, all the 'sahebs' ala political bigwigs of Nagpur took it as the warning signal and consciously removed 'saheb' tags from their names. These netajis have reportedly alerted their personal assistants and the entire staff not to call him "Saheb". The tag of Saheb which once heightened their personality has now been seen as the reason for suspicion in the city's neta fraternity. Not only the political leaders but the higher ups in the government departments too have refrained themselves from "Saheb" tag.
Fakoo told Nagpur Today that all the babus and politicians in Orange City are trying hard to get rid of "Saheb" title as they fear the suspicion of the Gujarat's "Saheb" directing illegal surveillance of a woman architect in 2009 could point towards them.
Two investigative news portals, Cobrapost.Com and Gulail.Com, had claimed on November 15 that Amit Shah, an aide of Gujarat's Chief Minister Narendra Modi and former Minister of State for Home of Gujarat, had ordered spying on a woman architech at the behest of one "Saheb".
One of the unreliable fakemasters on condition of publicity informed dignitaries in the city have passed firm strictures back home also to follow the 'anti-Saheb' norm in letter and spirit. Most of them have reportedly instructed their wives not to mention "Saheb ghar par nahi hai" (Saheb is not home) while receiving calls for them.
Even the newspaper advertisements carrying their towering cutouts would not carry the name "Saheb" in future, Fakoo informed.
Fakoo further informed that one of the sahebs…oops bhau…(very difficult to find ideal alternative to Saheb) who would be tying the knot this wedding season, has got all his wedding cards reprinted just because his name carried the word "Saheb" in the invitation. "It was due to immense pressure from in-laws I had to loosen my purse strings to spend more bucks on fresh "corrected" cards. My in-laws complained that "Rishtedar mere naam mein "Saheb" dekhkar tarah tarah ki baat kar rahe hein (Relatives are talking nasty stuff after seeing "Saheb" after my name). Helplessly I had to remove "Saheb" from all the wedding cards. Even I had to send corrigendum cards to those households where the cards were already delivered," informed a "former saheb".
Fakoo did not rule out the possibility of activity becoming a permanent trend in the city. So guys in the near future there will be no more Sahebs in Nagpur. Only Bhau will remain the buzzword for showing respect.