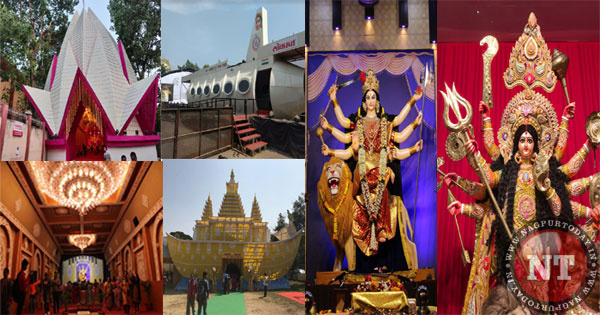 Nagpur: Every year the city prepares itself for festival season by offering many attractive sculptures and idols of God and Goddesses. With Navratri festival at it peak the occasion of Durga Ashtami is always a time of joy, merriment, devotion, and happiness and the Puja pandols in the city, with their unique and beautiful themes, are some of the main element of the week-long celebrations.
From Lotus temple to boat you will get to see various designs and themes in the pandols in the city.
If you plan to go pandol on this Durga Ashtami, here's a list of a few pandols that you must visit as you celebrate one of the biggest festive seasons of the year.
Aath Rasta Square: Rani Laxmibai Durga Utsav Mandal at Volleyball Ground in Laxmi Nagar, near Aath Rasta Square payed a tributes to Jhansi ki Rani Laxmibai for her brave role in nation's independence movement and presenting the warrior face of women. The mandal is showcasing her life's journey through a pictorial gallery. Another main attraction of the mandal is that the theme of this year pandol is based on submarine. A beautiful representation of submarine is presented which has amazed people.
Ajni Square: From past 20 years Ajni Square has witness many spectacular pandols during the Navratri festival over the years has gained many popularity by its various themes each year this year too a beautiful replica of Lotus Temple, Delhi is made by the Star Durga Pooja Utsav Mandal this year. With a grand celebration of Navratri the mandal offers the best to the city with beautiful Durga Sculpture and spectacular decoration it gives the devotees a peace to worship during the festival.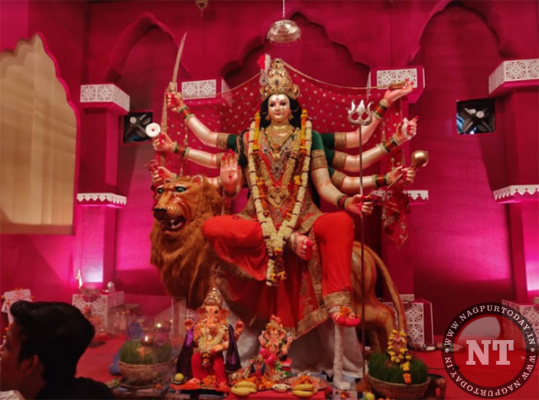 Dhantoli: In it's 109 year the Sarbojnin Sri Sri Durga Pooja commiittee at Dinanath High School and Junior College premises, Dhantoli has always been a star in the city with beautiful Durga idol along with all the attractive decoration. The mandal even conducts an exhibition from past 84 years where all the devotees come with their family to pray and enjoy. It is organised by Bengali association and Bengali Education Society. Shashti, Saptami, Ashti, Navmi are the main 4 days of celebration followed by the distribution of khichdi prasad and coconut laddoos.
Pratap Nagar: Pratap Nagar Durga Mandir has entered in its 33 year of worship and devotion. Durga Utsav which is celebrated in the Mandir premises always attract devotees with its decorations and preparations during the festive season.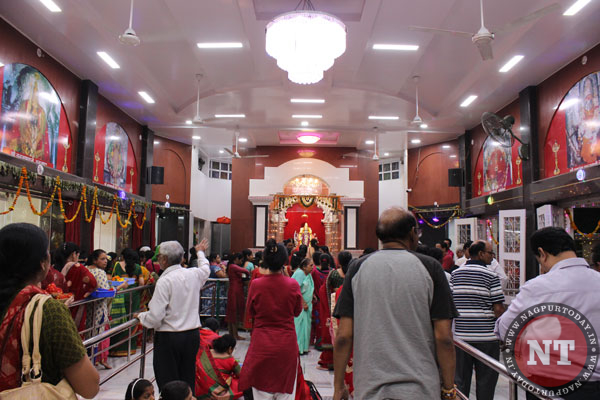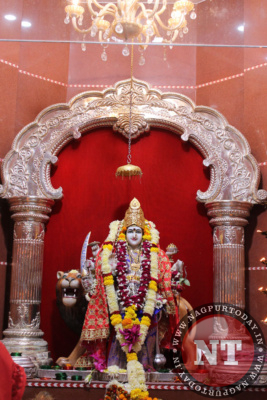 ABHYANKAR NAGAR DURGA UTSAV MANDAL : Abhyankar nagar Durga Utsav Mandal has celebrated the occasion for the last 28 years. This year the pandol showcased Swami Vivekanand RamaKrishna Math which located on the west bank of Hooghly River, Belur, West Bengal. The temple is notable for its architecture that fuses Hindu, christian and Islamic which stands as a symbol of unity among all religion.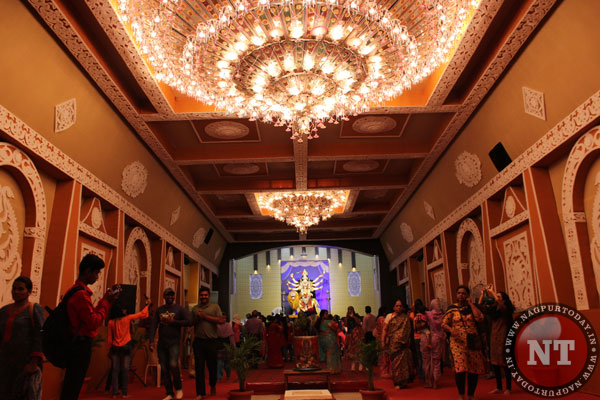 Katol road: Sarbajanin Durga Utsav 2018, in its 58th year It maintains full Bengali traditional puja style. The pandol is the main attraction every year this year it is decorated with a theme of boat. With cultural events in nights after sandhaya arti which happens from 7 pm to 8 pm the festival is celebrated with peace.