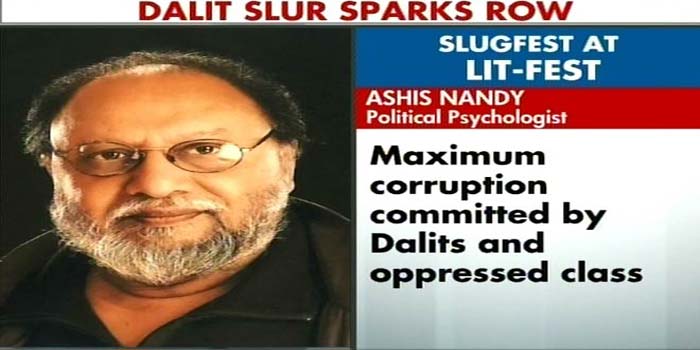 Nagpur News : Controversial speeches seem to be the tactics of the time. After MIM legislator Akbaruddin Owaisi's inflammatory speech sparked controversy across the country and Home Minister Sushil Kumar Shinde's 'Hindu terrorism' remarks pointing towards BJP-RSS sent the right wing fuming, there came another. In Jaipur Literature Festival, famed political analyst erred saying "Most of the people who are doing corruption are people from OBC, SC and ST communities and as long as it remains Indian republic will survive." As his remarks spread like wildfire, the flames of condemn start engulfing from across the nation including Nagpur.
However, Nandy later clarified that what he meant was that most of the people getting caught are people from OBC, SC and ST communities as they don't have the means to save themselves unlike people from upper castes. But the damage was done.
Leaders from the particular community and the prominent figures from the field of literature in Nagpur have expressed their ire over Nandy's statement.
Senior Litterateur and writer Jayshankar termed it unfortunate that such an statement comes from an intellectual. It is highly irresponsible on the part of Asis Nandy to create a categorization while speaking on corruption. He just did the way any political leader does, Jayshankar said. "Indian society has been already divided into so many castes, creeds and religions. Everyone is either known by his caste or religion, nobody as an Indian. Now even literary field is not spared by this divide. It is irony to expect such a shameful statement from a senior litterateur like Nandy."
Poetess and story writer Usha Agrawal 'Paras' too came down heavily over the controversy that a dignified person from literary field has given such biased caste-based remarks. "It is just business as usual. Whether it's Chief Minister or son of ex-President of India, everyone fuels controversy and then try to douse the fire by coming up with clarifications. If a political leader gives such statements then it is fairly understand that he or she is doing so out of political interest but what has the litterateur to do with such politics of divide. Being a responsible speaker Nandy should have controlled exercise over his language. Even I read my articles many a times before sending it for publication," she opined.
However Poet and philosopher Pushpendra Falgun chose to think otherwise. "When Ashis Nandy is saying something, we should try to interpret it correctly. He wanted to say that if OBC, SC, ST people commit corruption then it is exposed soon but how about other upper caste people who have been with the corruption in the system for so many years." Falgun said that Nandy is an efficient social scientist and his remarks always carry certain amount of depth. "Whenever a non-dalit talks about dalit his statement would be underlined with due concerns", he said and signed out.