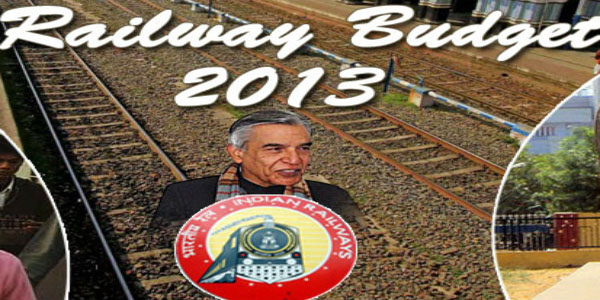 Nagpur News : It was a business as usual. The region comes first for every Railway Minister. And Pawan Kumar Bansal too followed the suit. However in the process, he had announced some propositions for Nagpur too. Overall, the latest rail budget too is a mixed bag of joys and sorrows.
Nagpur Today spoke to some of the prominent citizens and heard their side on the Rail Budget 2013-14.
Wary of the budget State BJP President Sudhir Mungantiwar expressed his anguish over the lackluster announcements for Maharashtra, especially Vidarbha. He said, "It seems the Congress has forgotten that Maharashtra lies in the map of India. It's an injustice to the state. More than 70 local trains were announced for Mumbai in the previous rail budget but it remained a mere announcement and now new announcement for Mumbai has been done without fulfilling the earlier, he said.
Mungantiwar pulled up the Congress saying that the party has literally punished the people for choosing them to power in Maharashtra for the third consecutive time. "It seems the Congress Railway Minister wish that his party should not return to power and his wish would be fulfilled in 2014 elections", he said.
Congress MP from Nagpur Vilas Muttemwar was also apparently unhappy with the latest railway budget. He said that the budget is not populist and too conventional in nature. "Nothing concrete was announced for Vidarbha and Nagpur. The training centre and bottling plant is not going to help much. We were expecting new train from Nagpur to Ajmer but Jabalpur-Jaipur train has been extended to Ajmer instead. We required some train from Mumbai but still the previous promises remain unfulfilled," he said.
Muttemwar however said that announcing broad gauge for Nagpur-Nagbhid track and development in Narkhed-Amravati and Nanded-Yawatmal did bring some hope for Vidarbha. Railway minister has shown his incompetence by presenting such a dim budget.
BJP MLA Devendra Fadnavis too shared the same views as he said that current rail budget does not hold any substance for common man.
This is what Nagpur got
Only way the rail budget has benefitted Nagpur is that few new trains would pass through the city. This apart, few development projects including a multipurpose training institute and Rail Neer bottling plants to come up in the city. Besides, a plush executive lounge has also been proposed in Nagpur along with creating avenues for National Skill Development in the city.
In addition to it, a proposal to double the stretch comprising Nagpur-Kalamna section has also been put up in the rail budget which also proposed Nagpur-Nagbhid narrow gauge to be converted to broad gauge.
Bansal has smartly managed to get his native state of Rajasthan few trains that indirectly benefits Nagpur too.
A new train to Mumbai and Bikaner will run from Ajni (Nagpur) to Lokmanya Tilak (T) (weekly) via Hingoli. An air conditioned Express train to run weekly from Bikaner to Chennai would also cross through Nagpur including Jaipur, Sawai Madhopur, Nagda and Bhopal. Two new trains have also been proposed that would pass through Nagpur.
These include Jabalpur– Yeshwantpur Express (Weekly) via Nagpur and Dharmavaram and another train from Puri to Sai Nagar, namely Shirdi Express via Nagpur.
The frequency of Ahmedabad-Nagpur Express has also been increased from 2 to 3 days.