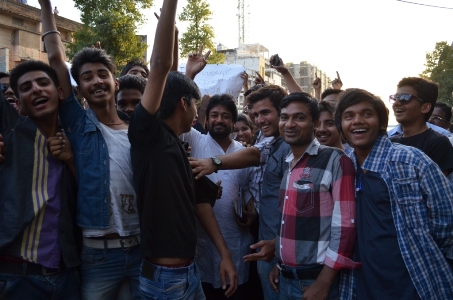 Nagpur News.
Tuesday brought some bad news for the students who appeared to attempt state board's 12th physics paper. The questions confused them a great deal and majority of them ended up with bad delivery. The students alleged that the questions asked were out of syllabus. Later a 500 strong crowd of students gathered outside Hotel Centre Point in Ramdaspeth where the political bigwigs along with industrialists were attending the investors' meet Advantage Vidarbha. The student raised slogans and demanded the paper be taken again.
However, an expert academician claimed that the questions were purely within syllabus. It's only that students did not go through textbooks and relied on the notes given by coaching institutes.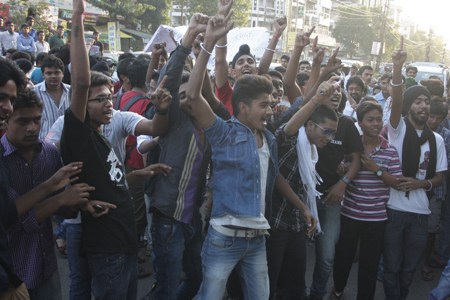 The students met BJP MLA Devendra Fadnavis, MLA Sudhir Jaiswal including other political leaders and submitted the copy of question paper to them. They demanded the re-examination to be conducted.
While most of the students alleged that the questions asked in the paper were of IIT level, an expert has different take on the entire mess up.
Panini Telang, director of Pioneer Tutorials near Mate square said that only count on which the government lacked was in allotting the time to the students. Most of the students complained of not getting enough time to solve the questions. As far the questions being out of syllabus, Telang refused to buy this contention as he said that he could prove that the students have blindly relied on the notes and guides issued or referred by the coaching institutes.
"Most of the students did not bother to read through the text books prescribed by the state board. The over dependence on coaching classes has led to this situation. The state government had previously announced that the pattern would be going to change from this year. So the coaching institutes should have prepared the students as per the new pattern. From this year the board has prescribed only one textbook and the students did not go through that."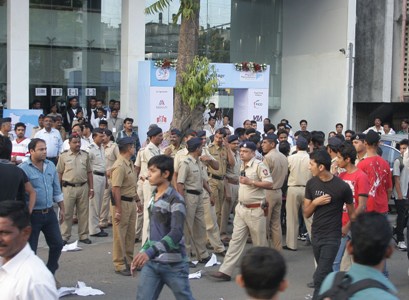 He said that he has also received various SMSes from students who are confident to score over 90 percent in this paper. The reason for this is that they have not used their mind studying textbooks and instead blindly swallowed down the notes.
Students did not prepare according to the new pattern because the institutes did not tell them.
A student on condition of anonymity countered this point saying that the board has not put the concerns of average students or majority in mind. The students need to pass as it is the question of their future. Though she agreed that the questions were asked from textbook but it was in twisted format which were beyond the capacity of most of the students.