Nagpur: Nagpur ladies circle -50 along with Tangents-11 sponsored 21 mattresses and food trolleys at Tukdoji Cancer Hospital.
Chairperson Cr.Farheen Rana was humbled to share her experience at this occasion and expressed her gratitude to tangents 11 who were all part of NLC-50 before they retired and became a part of tangents 11. She also informed that Nagpur is one of very few circles across India who are blessed to have tangents to hand hold them.
Tangent 11's chairperson Amita Behel was overwhelmed to partner project with NLC-50 and shared that our common passion to serve connects all of us.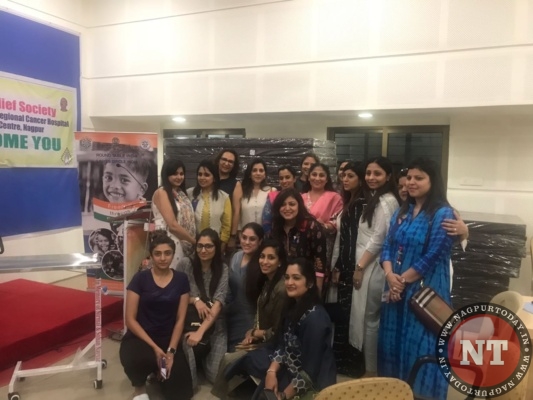 Dr.Subhrajit Dasgupta,Director at Tukdoji cancer hospital appreciated the feelings and generosity expresses by circlers and Tangents towards cancer patients and their contribution towards their betterment .
Circlers and tangents attended the project in big numbers. Cr.Dr.Farheen Rana (chairperson),Cr.Dr.Sakshi Diwanka (vice chairperson),Cr.Isha Agarwal(secretary),Cr.Nishka Chowdary (Treasurer), Cr.Esha Agarwal,Cr.Jaspreet Lamba, HC Megha Agarwal,Hc Ritu Kukreja,HC Anchal Jajoo ,Jewel Jhanvi Patel,Jewel Mahek Sugandh, Special advisor Meenakshi Sial attended the project.
Tangents chairperson Amita Behl was present along with Nandita Sahu,Reema Sial,Anjali Minocha, Shalini Arora,Namita Sharma,Sangeeta sharma and Sonia Khurana