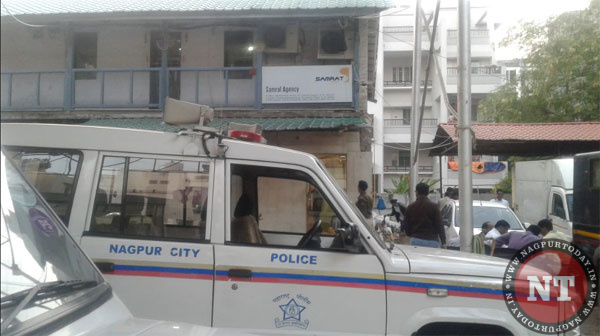 Nagpur: Dhantoli police arrested Jaiswal brothers in aftermath of unearthing of a liquor unit where local liquor was repackaged in bottles of branded companies ands old in market.The arrested are Prashant(47), Munna alias Sanjit(49) and Amresh (46), all residents of Plot no. 14/C, Chhaya Villa, Balraj Marg, Dhantoli. The trio was placed under arrest on Sunday. Jaiswal family is into liquor business owning production units and string of country liquor shops.
The family was first generation intol iquor business and now run by the three brothers who formed the second generation. The lid on their fraud got busted after Dhantoli police intercepted a Tipper filled with liquor bottle that were filled in the unit in Dhantoli area. The vehicle was intercepted by a night patrol team in front of office of Balbharti near Dhantoli garden on December 16.
The vehicle (MH-31/CQ-2629) was loaded with liquor cases many having well-known brands. However, investigations by cops revealed that most of the bottle contained country liquor sources from different States and later refilled in bottles of branded companies. A total of 197 cases of liquor were confiscated in the raid.
The Dhantoli police had registered offence under Sections 65 (A) (D), 83 (B) of Bombay Prohibition Act. The total cost of liquor was pegged Rs 5.12 lakh along with five cases of IB worth Rs 33,600. Later on in the investigations the police along with team of Excise Department reached to doorsteps of Jaiswal family raiding their bottling unit located near their house.
The raid on the bottling unit functioning right in middle of the city and that to in posh Dhantoli locality exposed the rough under belly of the liquor trade in city and region. And the busting of the illegal bottling liquor plant had the tipplers in seize and were left wondering whether they were being under cut at every step. The interception and later raid on liquor unit occurred during last week. The Jaiswal family tried to pass on the blame to unscrupulous employees but it failed to cut ice with police.
Finally on Sunday the Jaiswal brothers were placed under arrest. The investigations are being handled by Senior Police Inspector (PI) Dinesh Shende, with Sub-Inspector (SI) Wadatkar, Assistant Sub Inspector (ASI) Tiwari, constables Devendra, Rajesh, Ajay, Hemraj, Naik Police Constable (NPC) Rajendra and Head Constable Pandhari. Deputy Commissioner of Police (ZoneII) Chinmay Pandit is supervising the investigations.