Nagpur Hawala Cash Seizure : Did Nandanvan cops connive with informer to loot Rs 2.5 cr?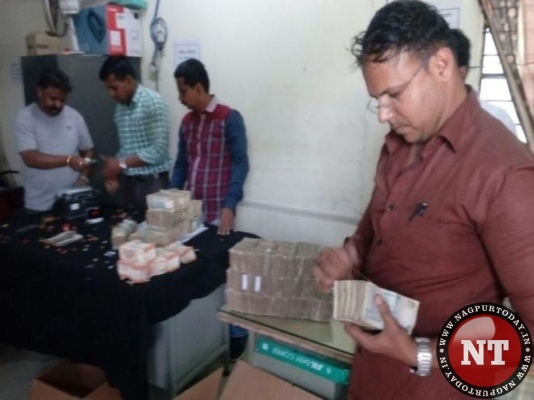 Nagpur: Crime Branch nets two police informers from Mahabaleshwar who claimed to have removed part of 'hawala' cash seized from a car before it reached Nandavan Police Station
An Assistant Police Inspector (API) attached to Nandanvan Police Station and his team members are under scanner following emergence of reports about under reporting of the 'hawala' cash seized on Sunday. The team showed on record seizure of Rs 3.18 crore cash seized from the car, while news was making rounds about Rs 5.73 crore cash found in the car.
Two police informers, both known anti-social elements whose role was highlighted in the confiscation of the black money, are said to have been tracked down from Mahabaleshwar by Satara police following information from their Nagpur counterparts. They claimed to have spilled the beans on the 'deal' fixed by the team that hogged limelight following seizure of the cash.
Nandanvan cops showed on records seizure of Rs 3.18 crore from the four-wheeler coming from Raipur for delivery to a city-based trader.
However, reports surfaced about alleged underhand dealing on part of the police team that had intercepted the car.
Commissioner of Police Dr K Venkatesham had ordered an inquiry as gossips within police ranks reached him about dubious role of the team that effected the seizure of 'hawala' cash. The person who came forward to claim the haul also claimed that the car was carrying Rs 5.73 crore cash. The role of Nandanvan police team in the cash seizure case came under suspicion when two police informers went missing from city.
The two informers – Sachin Padgailwar and Ravi Macherkar had fled to Mahabaleshwar along with three others in an Ertiga car, as was allegedly told by the cops,sources claimed.
As controversy outshone the smart work of Nandanvan police, Commissioner of Police, apart from asking Zonal Deputy Commissioner of Police, Zone-IV, Nilesh Bharne to inquire into the incident, ordered Crime Branch to carry out independent probe.
The names of two informers had surfaced immediately after seizure of the 'hawala' money so it did not take Crime Branch team much time to track them.
On Tuesday night, Crime Branch team informed Satara Police who latter raided the hotel where the five were staying. The Satara police team recovered Rs 2.80 lakh cash from their possession.
A team of Crime Branch also reached the hotel on Tuesday late night and took the two anti-social elements and their three friends into custody. The team is expected to arrive in city by Wednesday night.
According to sources, Sachin and Ravi told the investigators that the API whose team intercepted the 'hawala' cash and his team members had stolen Rs 2.55 crore out of Rs 5.73 crore cash and gave Rs three lakh to them. They along with three others then fled the city in a car.
Sachin and Ravi were informers of Nandanvan police. A senior officer informed that offence of dacoity could be registered against the police team of Nandanvan police station.
Senior officers suspect that part of the cash that Nandanvan police team allegedly embezzled could have been 'hidden' in city.
A team of Nandanvan police station, it may be recalled, had intercepted a Renault Duster car (MH-31/FA-4611) coming from Raipur to city at Prajapati Square. Cops checked the vehicle thoroughly and found customised compartments at bottom of all the four seats of the car stuffed with the cash.
Besides the driver, Rajesh Mende (40), a resident of Mini Mata Nagar, Kalamna, and Navneet Jain (20), a resident of Tulshi Nagar, were in the car.
Before reaching Nandanvan Police Station, the vehicle was taken to unidentified place where the two informers and their three friends siphoned off part of the cash.
Sources informed that the vehicle was taken to a slum near a Police Chowki where part of the 'hawala' money was removed from the vehicle. Further investigations are underway.