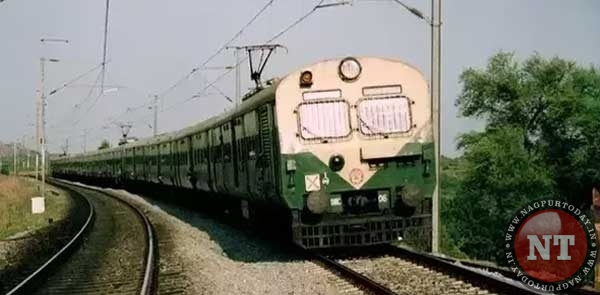 The Railways has dispatched its first state-of-the-art air-conditioned commuter train to Nagpur after Union minister Nitin Gadkari had mooted a proposal to bring them to his constituency, officials said.
Rolled out on June 29 by the Integral Coach Factory, Chennai, the stainless steel-bodied mainline electrical multiple unit (MEMU) features 3-phase on-board electrics and modular toilets in every coach.
As many as 139 people can sit in each coach, while the 'standing capacity' is 412. This MEMU train can carry upto 2,402 passengers.
In April, the road transport & highways minister had said that the Regional Rapid Transit System with the modern MEMU would replace the existing passenger trains in Nagpur.
In an inter-ministerial meeting, he had proposed introducing such trains on the broad gauge lines connecting Nagpur with the satellite towns of Kotal, Bhandara, Ramtek and Wardha — all within a distance of 40-60 km.
The train, with the maximum speed of 110 km per hour, will run on Nagpur's suburban train system catering to the needs of medium distance inter-city passengers, officials said.
With low maintenance requirements and a suspension monitoring system, the train will also ensure jerk-free journey for those on-board.
"The traction system is energy efficient and provides improved acceleration and braking performance and therefore, are faster compared to the conventional locomotive hauled passenger train services," an official said.
The train has stainless steel slip-free flooring for durable and safe travel, bench-type cushioned seats for comfortable journey, and wider vestibules between coaches for safe and easy inter-coach travel.
It will also feature lightweight aluminium double leaf sliding doors for easy entry and exit of passengers, and bogies with air spring in secondary suspension for better ride comfort cushioned seats.
It also has CCTV facility for enhanced passenger safety, GPS-based Passenger Information System and Passenger Address System for train-related information and FRP interior panels to give a pleasing aesthetic view, in all coaches.