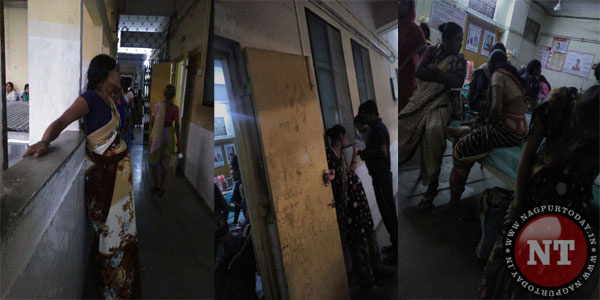 Nagpur: Drawing attention towards the apathy of public hospitals in Nagpur, pregnant women have to suffer the most at Daga Hospital in Nagpur. Similar is the condition of other patients coming to this hospital in the hope of getting cured. This was quite evident when Nagpur Today visited the hospital where some shocking facts came to the fore.
Rekha (name changed), who was sufffering from excruciating labour pain, had come to the hospital for delivery along with her cousin. Though Rekha's cousin was helping her out, doing necessary formalities, there was no hospital staff appointed for such emergency. More shocking was the fact that all the women in labor pain were being made to climb staircase to reach the delivery ward on the upper floor, as the lift in the maternity hospital is non-functional since last two months.
The scene in and outside the normal delivery ward was nightmarish. Single bed has been allotted to the number of patients. Even kin of patients are made to sit on the same beds. The attitude of the nursing staff too was ignorant towards the patients. Rekha was first asked to visit several wards before reaching the doctor, in such critical condition.
When Rekha's relative asked a nurse, who was busy gossiping, to attend her, she got angry and asked her to wait. After sometime she called Asha and started shouting on her cousin saying that her labor pain was no pain at all. Everyone is suffering with same thing, she answered abruptly.
NT also found out one patient in lobby, sustaining unbearable pain standing with the support of wall as all the beds inside were occupied.
One who can't sustain expensive treatment of private hospitals knocks government health care seeking diagnosis at affordable pricing. On the contrary, the government hospitals always run short of staff, medicines and necessary equipments.
Shubham Nagdeve