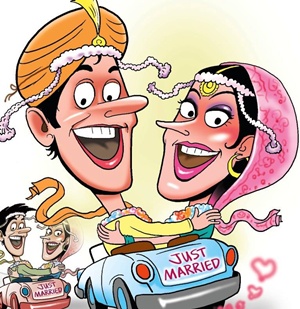 Nagpur News: It's stuff Bollywood flicks are made up of. A bride elopedwith her boyfriend, leaving the groom waiting at the marriage mandap at Ramteke Nagar on Wednesday. The woman, 22, returned in the evening, married to the man she loved. The groom, disheartened at first, had another surprise waiting for him, as the bride's family did not send him back empty-handed. They convinced the bride's younger sister to marry the groom, and everyone went home happy at the end of the day.
The drama started when a family from Pandhrabodi rushed toAmbazari police station with a request to help them find their daughter Reema (name changed), whose marriage was scheduled at 11am. The groom Shekhar (name changed), a computer teacher from Walni, had already reached the marriage venue with a 'baraat' of around 300 people. The bride's nervous family told police that she had left home early morning and was not traceable, with her mobile phone also unreachable.
Reema's family members also revealed that she was close to one Ravi (name changed). Sources in the neighbourhood also told the cops that Reema often frequented Ravi's place and the couple had been in a steady relationship.
Cops from Ambazari police station immediately rushed to Ravi's place at Sudamnagari. But Ravi too was untraceable and his mobile phone was switched off. The cops immediately flashed the registration number of Ravi's bike on the wireless to trace him, assuming that Ravi and Reema had gone together.
Meanwhile, the groom Shekhar and his family were crestfallen on learning about the incident. They started levelling allegations of fraud and cheating against Reema's family, for having kept from them the fact of her affair with Ravi. They were also upset that Reema had participated in marriage rituals at Shekhar's place a day earlier without any apparent reluctance expected of someone thinking of running away.
After a daylong drama of trying to trace them, Reema and Ravi returned in the evening after marrying each other. The cops, who had been worried about the possibility of the lovebirds taking a drastic step like suicide, were relieved to see them married and happy. "Police cannot take action since two adults have taken a decision to marry each other," said an officer of Ambazari police station.
However, the drama was not yet over, as Shekhar and Reema's families decided to end the matter on a happier note. Reema's younger sister Rita (name changed) was asked to marry Shekhar, and she agreed. Decked up in bridal make-up, she took Reema's place at the wedding and got married to Shekhar.