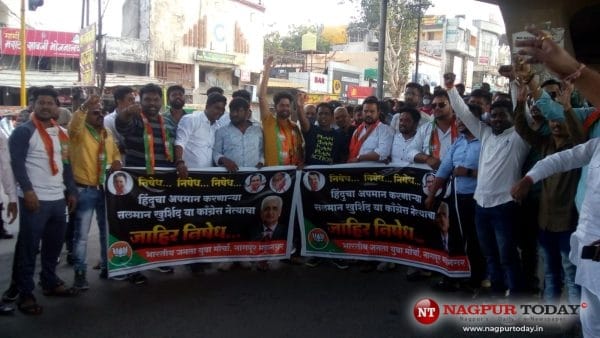 Nagpur: The city unit of Bhartiya Janta Party (BJP) on Saturday slammed senior Congress leader Salman Khurshid over his comparison of Hindutva with the jihadist Islam of terrorist groups such as IS and Boko Haram in his latest book. The BJP unit of Second Capital of the State staged demonstration at various places and raised slogans against Khurshid.
During the same, BJP workers tried to burn effigy of Khurshid. However, when cops tried to intervene the BJP workers reportedly picked up minor scuffle with the cops.
Notably, earlier this week, former union minister Salman Khurshid got embroiled in controversy for "defaming and comparing Hinduism with terrorism" in his recent book "Sunrise Over Ayodhya: Nationhood in Our Times".
Khurshid's new book on the Ayodhya verdict was released last week. It explored the Apex Court's landmark judgment on the Ayodhya dispute. Senior Congress leader Khurshid has compared Hindutva to radical terrorist groups like "ISIS and Boko Haram".
The development comes at a time when seven states in the country namely Goa, Manipur, Punjab, Uttar Pradesh, Uttarakhand, Himachal Pradesh, and Gujarat are slated to go for assembly elections next year.