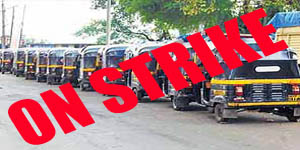 Nagpur News : Protesting to meet their demands, three seater auto rickshaw unions in the city have decided to go on strike on Wednesday. Objecting to illegal transport in the city, auto drivers are demanding to take stern action against the illegal transporters as they are making their losses.
The union members re also claiming that the driver especially who own old auto rickshaws should not be made compulsory to put in digital metres.
Another demand is enough parking spaces should be made available for auto rickshaws.
Harishchandra Pawar, president of 3-seater auto rickshaw chalak malak sanyukta sanghrsh samiti said that from past many years, they have been protesting for their demands in winter session but every time they are sent back with false assurances. "This time, except few unions, thousands of auto drivers are participating in the morcha. The strike has been called to bring fore the seriousness of our demands," said Pawar. The morcha will begin from Yeshwant stadium by around noon.
However, the sudden strike has disturbed routines of many people including school children