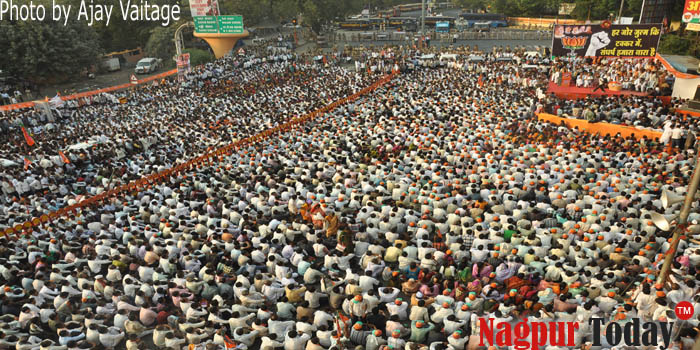 Nagpur News : Thousands joined the march to 'gherao' (surround) the Maharashtra assembly called by the BJP here to protest over issues like FDI in retail, price rise, corruption and rights of farmers.
Led by Bharatiya Janata Party (BJP) president Nitin Gadkari, deputy leader in the Lok Sabha Gopinath Munde and state BJP chief Sudhir Mungantiwar, the rally started from Reshim Bagh, close to the Rashtriya Swayamsevak Sangh (RSS) headquarters, and saw a participation of over 10,000 people in protest sit-in and blockade of the assembly here.
Senior party leaders Vinod Tawade and Eknath Khadse were also present in the rally.
The winter session of the state legislature began here Monday and it was only on the second day of the session that the BJP set out to blockade the assembly to lodge its protest on various issues.
The BJP is demanding higher support price for cotton, paddy and soyabean – the three main crops of the Vidarbha region.
The party is also demanding Rs.6,000 per quintal for the raw cotton while the cotton growers are getting a meagre price of just Rs.3,900 per quintal.
The BJP also planned to bring up other issues like high tariff for electricity and rationing of subsidised cooking gas cylinders.