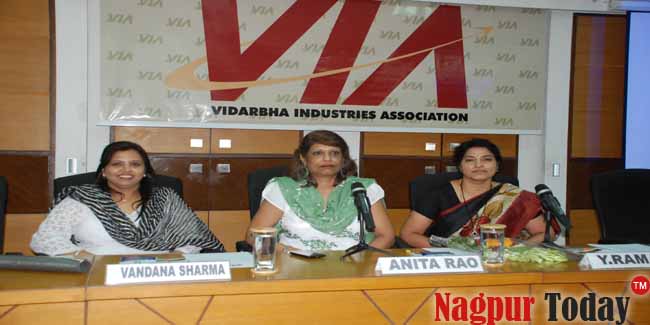 Nagpur News: Ms Y. Ramani, Proprietress 'ARTEFAKT" and Past Chairperson of LEW shared her success story on Manufacturing, Marketing and Exporting of Handicrafts (paper made dolls) and also guided participants on how to succeed in business with little money, loads of talent and positive attitude. She said her mother insisted her to try hand to this business as an Entrepreneur and she was her biggest inspiration. Her mother used to make cloth dolls stuffed with cotton; her art enthralled Ramani to keep it as a hobby and slowly started improvising on the method of making those dolls.
She said she started out with zero investment. Made a few pieces sold them, reinvested the earnings into making more dolls and again sold them and the chain continued. And thus grew this hobby into a thriving business. She said the basic raw materials used for making dolls and craft are newspapers, tree-gum and marble powder. She engaged in preparing papier-maché costumed dolls depicting Indian tradition and culture with authentic details. Each doll is fashioned after meticulous research into physical features of individual character, stance or pose, dress and jewellery. Each item is handcrafted and unique. Trying it out with different raw materials. And thus with all the experimentation she found this amazing medium of papier-maché, that as well went through a lot of changes until it finally made possible the smooth textured dolls that we all see today.
Ramani said she preferred papier maché as the media to make dolls and craft because of its- Eco-friendly nature, Light-weight, Durability and scope to portray fine details. She introduced papier maché as a media for making costumed dolls. These dolls make very good gifts and home décor pieces due to their uniqueness and artistic richness of our nation's heritage and culture.
Ramani then started displaying these handicraft items in series of numerous exhibitions (National and International craft-melas and trade-fairs) sponsored by Governmental and Non-Governmental Organizations'. She also started conducting workshops for school-children and women, physically challenged and for the children of red-light area on a regular basis. Her experience at VIA helped her to realise the importance of need-based and mass-production, commercialisation and marketing of craftwork.
She faced numerous problems in designing unique products, finding all the right kind of raw materials, training and maintaining workforce, learning new techniques, being involved in handicrafts business with mass production was a huge challenge, fulfilling big orders in short time, packaging and transportation of the products.
Lastly in summing up her success story, Ramani said though we face many such hurdles we keep trying to overcome them, in the end it is the attitude that keeps you going, never lose hope and stop at the hindrances because beyond them lay the way up on the ladder of success.
At the outset, floral welcome of Y. Ramani, Past Chairperson-VIA-LEW was done by Mrs. Anita Rao, Chairperson-VIA LEW. Introduction of the speaker and welcome address was done by Poonam Lala, Executive Committee Member and vote of thanks was given by Vandana Sharma, Secretary, VIA LEW. In addition,Chairperson Anita Rao gave a brief presentation on VIA LEW's proposed business tour to Dubai to participate in the 'Indian Trade Fair, Dubai, from 3rd to 5th September. Interested members were requested to register themselves in VIA before 1st July 2013.
Other VIA Lew esteemed Members who were present were Madhubala Singh, Sachhi Mallik, Reeta Lanjewar, Manisha Bawankar, Indu Shirsagar and other VIA LEW members.
This programme was attended by large number of public, students and lady entrepreneurs.