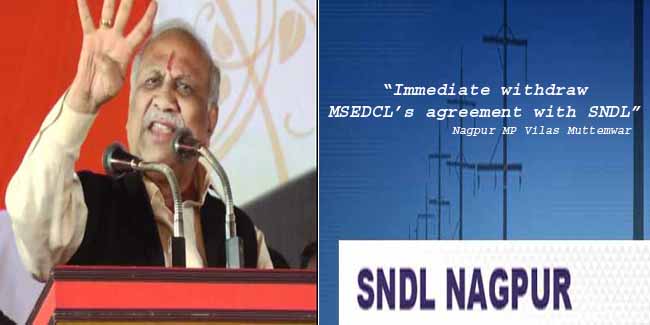 Nagpur News: Nagpur MP Vilas Muttemwar has called up Maharashtra's Deputy Chief Minister Ajit Pawar to seek immediate intervention into various issues pertaining to inflated electricity bills, faulty power meters and frequent load shedding being faced by the citizens in Nagpur. He has demanded immediate withdrawal of the MSEDCL's agreement with SNDL (Spanco Nagpur Discom Limited) in order to take the citizens out of this power mess.
Inflationary pressures are already mounting high over the middle class owing to the skyrocketing prices of vegetables and auto fuels. And the exaggerated power bills have only added to their hardships. The faulty electric meters and the multifold hike in power tariff on the basis of false scenario presented by SNDL has harshly affected the monthly budget of the citizens who are now left with no option but to agitate against the erring company.
Muttemwar told Nagpur Today that he initiated the issue of inflated bills being sent to the distressed citizens. He also spoke to Baba Mulak to support the issue further for the larger cause. "I could not attend yesterday's meeting in Mumbai as I was not well but I called up Ajit Pawar and demanded that such an agreement with dubious SNDL should be cancelled outright. They have violated many clauses and just exploiting the people."
He added, "However Pawar was wary of cancelling the agreement as this may prompt SNDL to move to the court and file for compensation. But I argued that citizens' interest could not be put to toss merely for this reason."
Pawar has admitted to Muttemwar's contention and assured to act soon in this regard.
Yesterday, the BJP leaders including MLA Vikas Kumbhare attended the meeting convened in Mumbai by Maharashtra Government subsequent to hundreds of complaints of Nagpur consumers like flawed power meters, bills of exorbitant amounts due to fast-swinging meters, irregular power supply, load-shedding for hours together, and most horribly no action on their complaints by the officials.