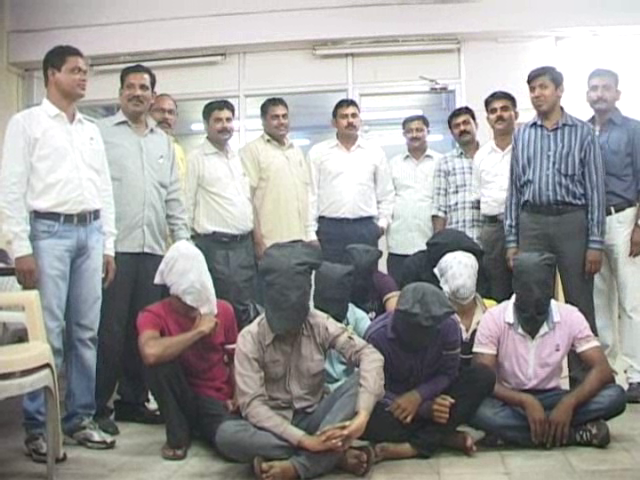 Nagpur News: In an incident that gave much- needed boost to the credibility of city police, ten people were arrested with knives, chilli powder and an air-gun before they could commit the intended murder of a property dealer on Monday afternoon.
Among the arrested is the notorious criminal Mohammad Irfan alias Ippa, the architect of the infamous Mominpura shooting. The arrested are expected to yield information regarding many recent untoward incidents in the city. The arrested also include Mohammad Haris Mohammad Arif Rangoonwala (24), Abdul Wasim Abdul Aziz (21), Mohammad Aslam Khan Habib Khan (20), Mohammad Shahrukh Sabri Aarif Sabri (19), Mohammad Imran Mohammad Sabir Qureshi (22), Sandeep alias Golu Ranjeet Shahi (25), Sachin alias Golu Vishvanath Sinha (22), Kishore alias Sonu Bhivrao Paunikar  (22) and a minor.
Haaris Rangoonwala is a property dealer. He is reported to have a criminal record, as is Kishore Paunikar. According to sources, a property dealer had gone to Sadar Police station to discuss his possession of a conflicted property. When the accused received knowledge of this meeting, they decided to take his life in front of Sadar Police Sation and reached the spot. The Crime Branch got wind of this and surrounded the area immediately. The police spotted the accused hiding among some tress and nabbed them.
The arrested had a luxury car, a bike, an airgun, other small weapons, chilli powder, rope, 14 cell phones and Rs. 28, 000 with them.
There is a possibility of a police constable having been on the target list as well, since the constable is in search of Raja, an associate of Ippa, who runs a hotel near Sadar Police Station.