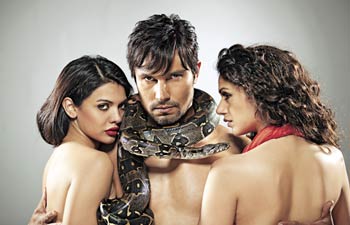 Director: Vishesh Bhatt
Producer: Vishesh Films,Fox star studios
Star Cast: Randeep Hooda,Aditi Rao Hydari ,Sara Loren
Music Director: Pritam (Guest Composer ) Roxen band)
Genre : Thriller
Plot: A wildlife photographer Vikram (Randeep Hooda) gets into a relationship with a waitress from a lounge, Nisha (Sara Loren). She moves in with him in his palatial house outside of the city. The old world house, made decades ago is as beautiful as scary it is. It holds many secrets which Nisha is soon to unearth; of the life of the man who made it and of Vikram, who is dealing with the mysterious disappearance of his former girlfriend Roshni (Aditi Rao Hydari).
Murder 3 is basically the official remake of the Colombian thriller, The Hidden Face. Arturo Infante and Hatem Khraiche's story gets just about satisfactory justice in the pens of Mahesh Bhatt and Amit Masurkar The script is quite good and will keep you on the edge of your seat. But the first half is rather slow. Also, the characters are not etched out well. The character of the cop-ex-boyfriend is an interesting addition but has not been used well. The part of the story of Roshni doubting Vikram should have been handled better.
Randeep Hood as Vikram in the film is okay. The rest of it goes away with his lazy acting.Sara Loren has also worked with himesh reshamiya in Kajrare and in this film too she has not done anything great. Aditi Rao Hydari's role as Roshni is the pillar for this movie.
Some might find the ending a bit unforgiving, but it's a very intriguing twist. Sanjay Masoom's dialogues are rather bland and disappointing.  Raju Singh's background music is alright. There's nothing memorable about Pritam, Anupam Amod and Roxen Band's songs but they suit the moment well. Cinematography by Sunil Patel is ho-hum. Devendra Murdeshwar's editing is good. The things which can be remembered in the scenes of the film is Cape Town and Goa. Vishesh is a newcomer assisting some more films and some more directors will help him to learn and continue the legacy of vishesh films.
Verdict:  Murder 3 tickets can be a gift to enemies or lovers (corner seat).

:Yash Raj Trivedi