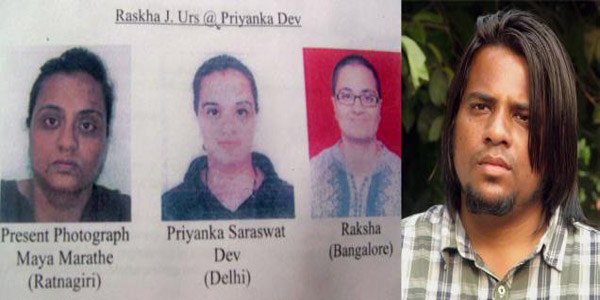 Nagpur News :  There seems to be more than what meets the eye by prima facie scanning of the mega financial fraud committed by city's couple Ulhas Prabhakar Khaire (33) and his wife Raksha J Urs (30). Both were arrested by Delhi Police from Ratnagiri on Monday. The financial operations done under the dubious company Stock Guru India, being dubbed as one of the India's biggest investment frauds, was said to have been nurtured by the big fish in business and political circles.
The interstate network of this foolproof crime has been reportedly built by the couple who kept disguising themselves every now and then. However, whispers are already airing about the strong connection the couple held in the influential lobby. Sources informed that the couple had invested crores of rupees in real estate at Nagpur. The properties have been purchased in the name of relatives and associates of the kingpin. Even they opened several bank accounts in the city in the names of relatives, in which they have parked the unaccounted funds.
Ulhas reportedly left Nagpur in 2004 when his name appeared in a fraud. However it was in Nagpur itself that Ulhas, initially a construction material supplier in the city, hatched the big plan.  They had launched a high-profile promotional campaign and even roped in celebrities.
Both of them reportedly came to Nagpur before moving to Ratnagiri. They even stayed in the city for few days, but sensing the Delhi police information about their whereabouts in the city, they fled from Nagpur.
The couple had allegedly floated Stock Guru India and lured investors by promising to double their sum in just six months. Their wide network fetched the couple about 2 lakh people who invested about Rs 1,100 crore. Delhi Police and its chartered accountants have so far estimated that the investors have been duped of Rs 493 crore but the accounting is still under process and it could reach well over Rs 1,100 crore.
The couple often disguised themselves changing their names to Lokeshwar Dev Jain and Priyanka Dev Jain. And one fateful day both disappeared suspiciously with the investors' money. It was an year after that Delhi Police's economic offences wing nabbed the couple from Ratnagiri in Maharashtra, where they had opened another fake investment company.
The scam came to light around April last year after investors complained to the police. In Delhi alone, cops have received 14,303 complaints from investors who had put in money ranging from Rs 10,000 to Rs 60 lakh in Stock Guru India.
Police have recovered deposits, cash and investments worth Rs 63 crore from Ulhas and Raksha, including eight flats in Dwarka. The victims were spread across many states — Uttarakhand, Himachal Pradesh, Delhi, Rajasthan, Madhya Pradesh, West Bengal, Haryana, Sikkim and Maharashtra.
Before launching Stock Guru India, the couple had started a fake college in Dehradun using different identities and collected money from prospective students on the promise of giving them diplomas in psychotherapy.