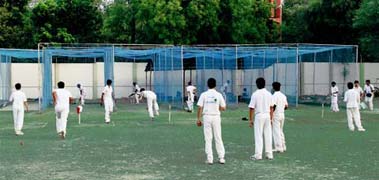 Do you see yourself as the next star of the Indian team then better start early and this academy is the best option for you.
The Mujumdar Cricket Academy – has been working towards grooming cricketers into successful cricketers since 1985. The club has successfully completed Silver Jubilee year in 2010. The club was then inaugurated by Shri. Shashank Manohar. Mujumdar Cricket Club is well known cricket club in Vidarbha region, equipped with 4 turf and 3 cement wickets. The total strength of 100 boys of different age group gets coaching here under the able guidance of Shri Sunil Mujumdar, Director of Coaching. Mujumdar Cricket Academy has played a huge role in developing cricketers in Vidarbha team. (lot of the boys from the Mujumdar Cricket Academy has represented Vidarbha at junior level as well as first class level.)
The Mujumdar Cricket Academy is situated at Dhanwate College ground, Vasantnagar, Nagpur. The coaching methods involve individual attention, video analysis, physical training program, practicing with the bowling machine and regular match practice on the Turf Wickets. The trainees are placed into categories depending on their age groups. The coaching methods are designed such as to match their respective age group. To enhance the players skills by teaching the finer points of the game we organize video analysis sessions of individuals.
The Mujumdar Cricket Academy is affiliated to Vidarbha Cricket Association, Nagpur. Every year Mujumdar Cricket Academy`s players actively represent in all the tournaments organised by BCCI viz., Ranji Trophy, Vijay Hazare Trophy, Syed Mushtak Ali Trophy, C.K.Nayudu Trophy, Cooch Behar Trophy, Vinoo Mankad Trophy, Vijay Marchant Trophy etc.
The following players associated with Mujumdar Cricket Academy, represented various tournment organised by BCCI.
Ranji Trophy, Vidarbha
Pritam Gandhe
Himanshu Joshi
Pravin Londase
Dhiraj Sharma
Kishore Ben
Harshal Huddar
Sangeetrao
Saji Nair
Anant Bhagwat
Mandar Dawande
Amogh Dani
Adwait Manohar
U-19 India
U-22 Vidarbha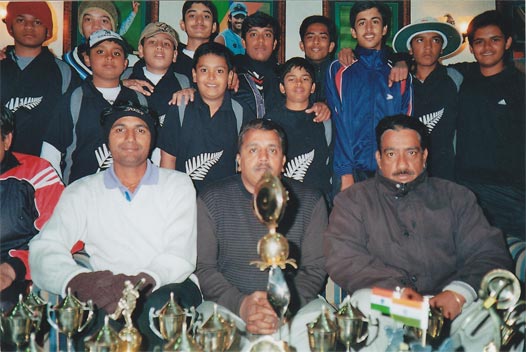 Infrastructure
Main pitch with four practice pitches
Nets for practice
7 Turf Wickets, 2 Astro Turf, 1 Cement Wicket
Bowling Machine
Automated rollers
Automated grass cutters
Latest Sports Equipment
The lush green outfield helps in development of fielding skills such as ground fielding and diving fielding skills. We use the latest scientific coaching methods, periodic video analysis of various aspects like batting, bowling and fielding of students. The bowling machines is also used as effective tool. The players coached in a manner to make their development pleasurable, enjoyable and interesting. We also offer specialist coaching, concentrating on just that certain aspect of the game which you want to improve upon. As our emphasis on teaching the finer points of game, we also make sure that our students get an advantage of experience and knowledge of professional players, so we organize the same for them.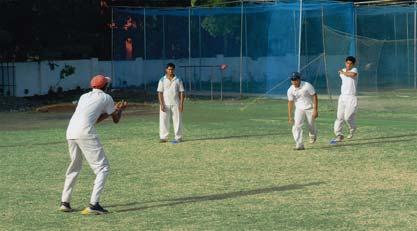 Coaches
Ujjwal Joshi
He is a good leader and leads his college team from 5 yrs. The junior and senior college team in Nagpur and won many prestigious tournaments for his college. He is an all-rounder, represented Nagpur University twice in All India inter university cricket tournament organized by "INDIAN UNIVERSITY".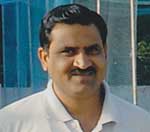 He is a right handed batsman and medium pacer. He is specialist in swing bowling and has an experience of guiding players with great ease and convert their Negatives in positives by correcting their mistakes from time to time. He trained players in all aspects of game such as developing their match temperament and patience to face every odd situation with great skill. He has been associated with "Achrekar Cricket Academy, Mumbai" in 1988-89, where Sachin Tendulkar, Vinod Kambli, Ajit Agarkar, Pravin Amre were coached by Shri Ramakant Achrekar, a Dronacharya award winner.
Suraj Sharma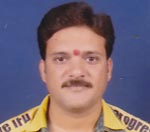 He is a right hand batsman and a specially fast bowler. He possesses good knowledge of cricket game and trained the players in all aspects of game, including the beginners as well as talented players. He is having an experience of coaching the players since last 3 to 4 years.
He represented VCA Ranji Tropy and Nagpur University as a standby player. He also represented Nagpur City and District Cricket Association. Participated in Indo-Thai Tennis Ball Cricket Tournament at Bangkok under Thailand Tennis Ball Cricket Association.
Kenia Jayantilal – Guest Coach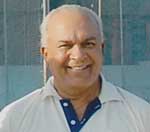 Hirji Kenia Jayantilal, is a former India cricketer, who is Right-hand batsman and Right-arm off-break bowler.
A right handed opening batsman with a good defense and a penchant for the pull shot, Jayantilal went to the West Indies in 1971 as a opening batsman. In the first class matches, Jayantilal was a success finishing fourth in the averages with 506 runs (56.22).
Rajesh Chauhan – Guest Coach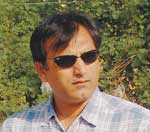 Rajesh Chauhan is a former India cricketer, who's Batting style is Right-hand batsman and Bowling style Right-arm off-break bowler.
He made his test debut vs. England at Kolkata, 29 Jan – 02 Feb 1993 and ODI Debut vs. Sri Lanka at Colombo, Dec 25, 199
Summer and winter camps
Winter Camps
The Winter Camps held between October-November with morning and evening batches.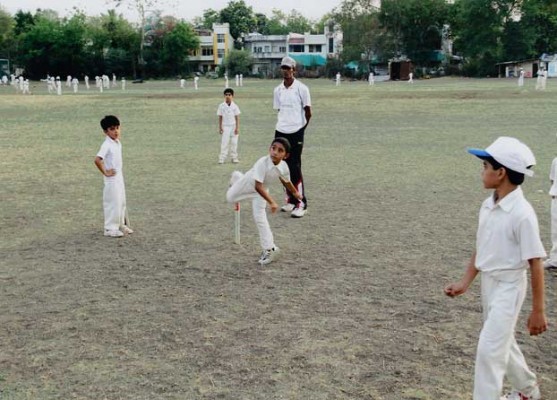 Summer Camps
The Summer Camps held between April-June to coincide with school holidays, with morning and evening batches.
The Academy also takes players for tour's . The photos of the same are available below.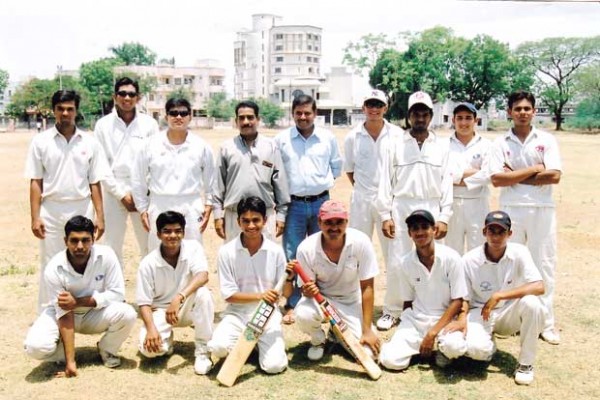 Every year Mujumdar Cricket Academy organises Summer and Winter Camps. The Camps cater for all standards, from beginners to advance. Our camps provide professional cricket coaching for boys and girls from the ages of 8 to 16 years old.

This is the academy you have to send your child to if you dream big and just want your child to make it big the the sports industry