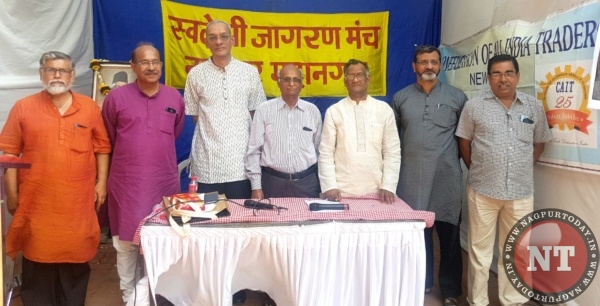 Nagpur: Mudra is a powerful innovative idea which has tantilisingpotential to transform economy at gross root level. It is employment driver is tens of million said Shekhar Swami while addressing on the occasion of financial New Year at the program at Dr. Keshav Hedgewar's residence organised by Swadeshi Jagran Manch and Confederation of All India Traders , New Delhi jointly.
Indian Retail Business is world'slargetdisaggrgatedPrivate business Eco System were 57 million non corporate and self organized people are operating out side the formal system. If this sector of society is brought in the main system of economy it will increase GDP and tax collection of the country. It is unfortunate that this sector it not supported by credit from formal sources. These people have lack of access to credit which if available is at very high cost.
Emphaszing the need of promotion of small business in context of Indian economy there is need for Mudra Yojna. Mr. Swami compared between big business and small business. He said that in big business there is mass production and mass distribution by few, whereas in small business the production is by masses and distribution is also through masses. Big business has creation and concentration of wealth in hands of few whereas in small business their is creation and distribution of wealth amongst masses. Big business attract foreign capital whereas small business works with Swadeshi Capital.
He said that Mudra Yojana is very important sinces big businessness are financially well served. They can raise money through banks, insurance and pension fund, mutual funds, and with the help SEBI from capital market and external commercial borrowings. In contrast to this small business are financially very weak. They have lack of access to organized funding and has to depend on local source of money which is at very high cost. MurdaYojna is specifically designed to fund these non funded.
Although 3 years to Mudrainplementationhas lasped but still the feed back is people are saying mudra loan are not available to them.
Mudra was luunch as a re-financial institution to provide funding to lending institutions. Refinance funding till March 2017 was only Rs. 6113/- crores. Last year it could be around 3000/- crores. Refinance done over last 3 year is estimatedaround 9000/- crores only. RBI has seen Mudra as suspicious right from beginning. It appears RBI is not interested to see Mudra as a regulator of finances, which was original intention of Mudra Yojna
The Govt.is trying to push mudra loan through existing banking system. The banks are applying same norms and dealing with small business as they deal with bigger business. This just does not work. The small business eco stystem that was envisaged for MUDRA has not been executed.
What we require to make mudra successful is need of new thinking based on Indian ground reality. A new system out side the frame work of western prescribed norms. A development mind set which is not just a command and control mind set.
The meeting was chaired by ex pro ViceChancellorYoganandji Kale, B.C.Bhartiaintroduced the guest, Ajay Patki and Ashitosh Pathak conducted the proceeding , Praveen Maseproposed vote of thanks and Dhananjay Bhide welcomed the guest. Those prominently present were CA Satish Sarda, Uday Wankhede, (MahanagarSahakaryaVaha RSS), Nana Akhare of Kisan Sangh, Kishor Dharashivkar TEAM CAIT Nagpur, ArchanSohani, BMS, Sanjay Dharmadhikari, GrahakPanchhyat , UdhyanShtrotiLagu Udyog , Bharti Gajanan Gatlewar, GyaneshwarRakshak, Kirana Sangh, Jayshri Gupta, Jyoti Awasthi, DayaBhutoliya, Sapna Talraja, Asha Kandhariya etc.