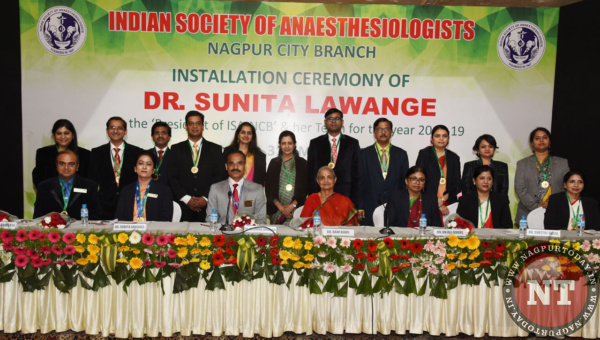 Nagpur Today
Renowned Consultant Anaesthesiologist and Pain Management Specialist, Dr. Sunita Lawange was installed as President of Indian Society of Anaesthesiologists-Nagpur City Branch (ISA-NCB) , along with other members,in the august presence of Padma Shri Dr Rani Bang on Saturday evening. The event was held at a city hotel. Dr Umesh Ramtani, Assistant Professor in Anaesthesiology, Mayo Hospital, was installed as Secretary.
Dr Lawange's book 'Holistic approach to lower back pain' was distributed among those present on the occasion. In this age where people are tech-savvy, they experience pain in neck and lower back.
While delivering her speech, Dr Sunita Lawange said that platelet reach plasma (PRP) is in vogue. It is said that when PRP is injected in the knees or shoulder, it helps in re-generation of the cells."Patients recover very fast and a knee-replacement patient starts walking within a day. This is only possible through good anaesthesia," she added.
Dr Rani Bang, while addressing the gathering, asserted that no surgery can happen without anaesthetist and added that it's sad to digest that there is lack of anaesthesiologists in rural area and our government only invests 1.2% of GDP on health sector while US spends 10% to 12% of their GDP.
Former MP Villas Muttemwer along with wife graced the occasion by their presence. Later, all the guests and participants enjoyed dinner together.
By Farhan Kazi 
Pics by Rajesh Bansod