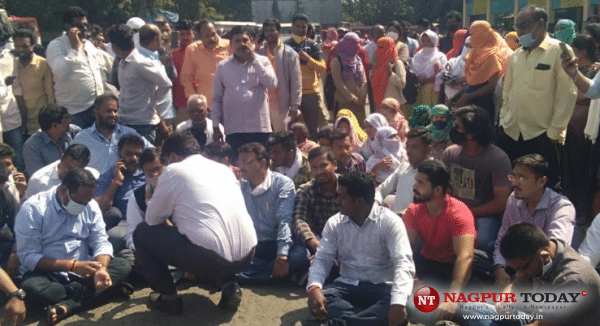 Nagpur: The drivers, conductors and technical workers of Maharashtra State Road Transport Corporation (MSRTC) staged a protest at Ganeshpeth Main Bus Stop on Saturday morning to press for merging the corporation with the government so that they can get all the financial benefits like government employees.
The protestors wore bangles to drivers/conductors coming here from other cities/towns as to why they proceeded to Nagpur in the buses. The MSRTC staff has set to go on indefinite strike starting from Saturday midnight to press for their demand.
The passengers will be subjected to hardship, ahead of the festive season as all the ST buses all over Maharashtra will stop plying.
R S Wankhede of Ghat Road Bus Depot said that, "The leaders of ST Workers Action Committee betrayed them by calling off the stir even though the government failed to concede the demand. We allowed the operation of the buses so that passengers wanting to go to different places should not suffer," he appealed