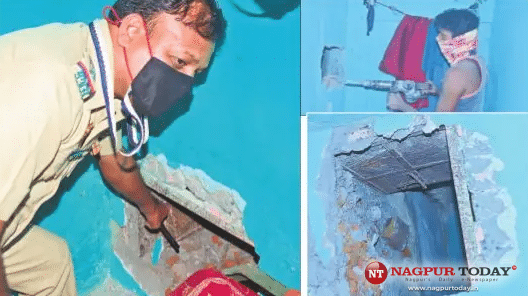 Nagpur: The minor girl, who was sold for Rs 20 lakh by her mother for flesh trade, led Nagpur police to secret chambers in Ganga Jamuna (Red Light) area where minor girls were being hidden during the raids by cops. Police discovered the secret chambers at a brothel in the notorious area after the 17-year old girl showed the way.
The cops sealed the two chambers in the basement of the brothel. Police registered a case and booked three persons including a woman. Two accused have been arrested in the matter.
During the raids, the cops could initially see only a wall behind the bed in a cramped room on the ground floor. It was after the victimised minor girl pointed out, a portion of the wall was pulled down to find a hollow opening which had a chamber behind where at least four minor girls can crawl into and stand. There was also a hidden chamber at the end of a tunnel on the first floor too. The chambers were closed and the wall had been painted recently to mislead the cops. The secret chambers were closed after the city police banned flesh trade at Ganga Jamuna following orders from the Commissioner of Police Amitesh Kumar, a police official said.
The minor girl, who helped cops to discover the chambers, was sold by her mother to some persons for Rs 20 lakh in 2017. From her native place in Rajasthan, she was taken to a dance bar in Mumbai for flesh trade. But since the girl protested and refused to work in the dance bar, she was taken back to her village at her mother's place. In 2018, her mother, with the help of her relatives, sold the minor daughter to a person for Rs 20 lakh for flesh trade. At the person's place, the girl was being forced for prostitution and also beaten up severely whenever she refused to 'entertain' customers.
This evil buyer, after sensing that the victim girl was not a profitable proposition, dropped her at her relatives' place again. In 2020, the victim girl's relatives sold her to a pimp running a brothel in Nagpur for Rs 20 lakh. The brothel operating woman forcibly pushed the girl into flesh trade and whenever she refused, she was subjected to severe thrashing. The woman pimp would also spike the girl's food with sedatives and would push her into prostitution in that condition, police said.
In the year 2021, the minor girl, with the help of a customer, managed to escape from the brothel in Nagpur, and lodged a complaint with Lakadganj Police Station against her mother and relatives after narrating the harrowing experience she underwent for the past four years.
Lakadganj police later went to Rajasthan and Madhya Pradesh to arrest the girl's mother, a relative and a goon-turned trafficker Mahendra Chhari. All the accused are in police custody, now.