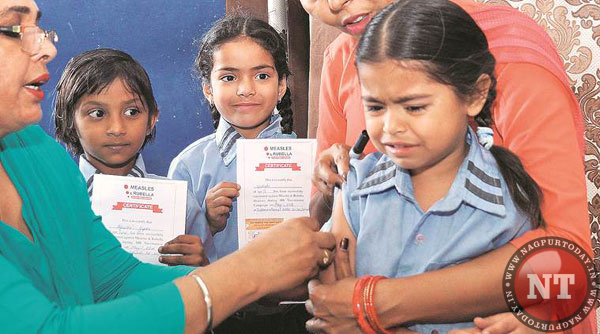 Nagpur: As the month long Measles-Rubella vaccination drive for children between the ages of nine months and 15 commenced on Wednesday, the parents found themselves in dilemma. Since the vaccination is in the form of injection, panic is ruling the roost. Since the parents have to fill up consent letter as a condition for the vaccination in many private schools, fear has gripped them.
According to sources, several parents have raised objections on the conditional consent. They have also raised safety of the children. On the other hand, the Health Department has clarified that there is no necessity of 'consent' letter. The Health Department has undertaken Measles-Rubella vaccination drive for the kids in the age group of 9 months-15 years in schools, Anaganwadis, all hospitals across the State from November 27. In Nagpur Rural, the vaccination started at Zilla Parishad schools and Primary Health Centres in Mauda from Wednesday.
Schools shirk responsibility:
The Health Department has asserted that the vaccination is absolutely safe and parents should come forward and vaccinate their children. According to information, even though the parents are not refusing vaccination but no competent authority is clearing their apprehension. This has led to atmosphere of doubt and fear. Adding to the woes are the private schools that have shirked their responsibility by demanding 'consent' letters from parents. This has further complicated the matters. The Education Department has also clarified that the schools have not been asked to procure 'consent' letters but only informed about vaccination.
Vast campaign:
In Nagpur District, entry of total 10.61 lakh beneficiaries has been made for the MR vaccination. The figure includes Nagpur's 4.21 lakh school students and 62,716 kids of Anganwadis. In the month long drive, vaccination will be carried for 15 days in schools while 15 days in other areas. Students of one school will be vaccinated daily.
Vaccination is safe: Health Deptt
Around 50,000 children die every year due to Measles in India. Quantity of Vitamin A drastically declines in the Measles hit patients. Rubella to pregnant women could cause miscarriage. Kid could suffer cataract, heart related diseases, deafness, mental disability, inadequate growth etc. Rubella is highly infectious disease. The Health Department has affirmed that the vaccination is absolutely safe.