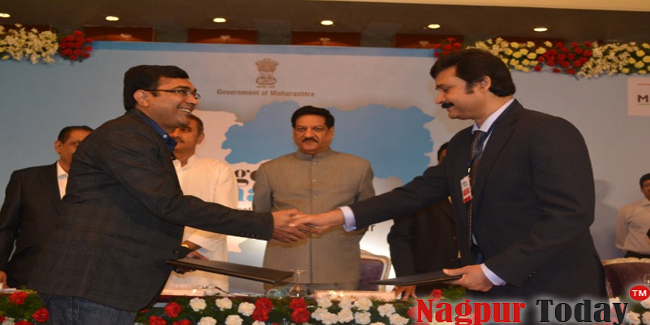 Nagpur News : Various pacts worth Rs 18,461 crore were announced today at the first day of the two-day 'Advantage Vidarbha' conference here.
The memorandum of understanding (MoUs) were signed in presence of Maharashtra Chief Minister Pithivraj Chavan, Union Minister for Heavy Industries Praful Patel and others.
The prominent companies who have entered the MoU are power plant equipment manufacture BHEL with an investment of Rs 2,500 crore, and Ambuja Cement with an investment of Rs 3,300 crore; Manikgarh Cements would be investing Rs 1,500 crore and Bhushan Steel would be investing Rs 1,350 crore.
The Chief Minister has assured all possible help to the business fraternity in the region. Chavan asked investors to avail advantages of the new industrial policy and huge deposits of minerals, natural resources of water and land, and human resources in the region to develop business.
He stressed the need for developing Nagpur, which is geographically centrally located in the country, as the transportation hub, saying with the rise of petrol prices, it would be ideal for logistic purposes.
The Mihan multi-modal international passenger and cargo hub here was developed in a similar way with an idea that the international flights passing over Nagpur make a stopover here and exchange consignments en route to longer destinations thus connecting Nagpur with other international cities, Chavan said.
Talking about industrial peace, overall climatic conditions and vast connectivity by rail, road and air, he said Vidarbha in general and Nagpur in particular is a strategic place for investors.
Welcoming the proposal of public sector undertaking BHEL for setting up a manufacturing unit and a silicon solar cell at Sakoli in neighbouring Bhandara district, Chavan said he would team up with Patel to seek subsidy from National Mission on Climate Change of the Centre, which is available for unconventional energy sources like solar energy.
There were ultra mega projects worth Rs 1,500 crore with an employment potential of 3,000 men already underway in the region, he said.
Vidarbha, which has rich cotton belt, will be developed as textile manufacturing zone, the Chief Minister said, adding that "we will ensure that 100 per cent cotton is used for textile here after the new textile policy of Maharashtra government."
State Industries Minister Narayan Rane and Social Justice and Nagpur Guardian Minister Shivajirao Moghe, among others, were also present on the occasion.

… Rajeev Khuswaha