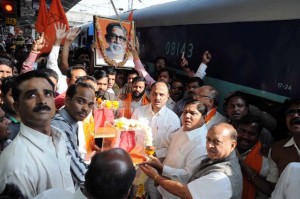 Nagpur News: The mortal remains of bereaved Shiv Sena Supremo Balasaheb Thackeray were brought to Nagpur on Wednesday. The remains were transported from Mumbai by Vidarbha Express. Nagpur Mayor Anil Sole along with Shiv Sena District President Shekhar Sawarbandhe received the kalash at railway station that was jam packed with Shiv Sainiks who arrived there in large numbers to received the mortal remains.
Later a massive rally carrying the remains proceeded through various prominent areas of the city including Manas Chowk, Sitabuldi main road, Variety Square, Munje Chowk, Loha Pul, Cotton Market, Tilak Putla, Shivaji Putla Chowk, Mahal, Zenda Chowk, Chitnispura, Sakkardara Square, Chhota Tajbagh, Sharda Chowk, Manewada and Krida Chowk. The rally culminated at the Sena office at Reshimbagh Square.
An all party condolence meeting was held at Reshimbagh Square in which the leaders cutting across party lines gathered to pay tributes to the departed Shiv Sena leader. The mortal remains would be kept at different places across Nagpur on November 22 and 23. It would be immersed later on the evening of November 23.