Nagpur: The mortal remains of former Justice of the Bombay High Court Chandrashekhar Dharmadhikari were consigned to flames at Ambazari Crematorium with full State honour. Justice Dharmadhikari passed away at a a private hospital in Nagpur in the wee hours of Thursday. He was 91.
Before the last rites, body of Justice Dharmadhikari was taken to Sarvodaya Ashram situated near Bhole Petrol Pump, Dharampeth on Amravati Road for people to pay their last respects. Justice Dharmadhikari was associated with Sarvodaya Ashram for long and used to go there frequently. Large number of people from various sections of society including judges of Nagpur Bench of High Court, District Court, lawyers, police officials, district administration officials, and other prominent personalities reached Sarvodaya Ashram and paid their homage to the departed soul. Commissioner of Police Dr Bhushan Kumar Upadhyay placed a wreath on behalf of police department and paid his last respect. The State Education Minister Vinod Tawde, City Congress President Vikas Thakre also placed wreaths to pay their homage.
Justice Dharmadhikari was not keeping well and two days back he was admitted to the private hospital where he suffered a cardiac arrest on Wednesday night. He breathed his last around 1 am on Thursday. He is survived by two sons, senior Bombay HC judge Satyaranjan Dharmadhikari and senior lawyer Ashutosh Dharmadhikari, and daughter Dr Aruna Patil. Justice Dharmadhikari was awarded the Padma Bhushan in 2003.
During his legal practice, he served as government pleader before being appointed judge of the Bombay High Court in 1972. He retired on November 20, 1989.
Chief Minister Devendra Fadnavis condoled the demise of Justice Dharmadhikari , saying he was a stickler for principles and an inspiration for the new generation. "Justice Dharamadhikari carried forward the legacy of social responsibility of his father late Dada Dharmadhikari. He worked for the spread of Gandhian values till his last. He had also guided the state government from time to time," he said.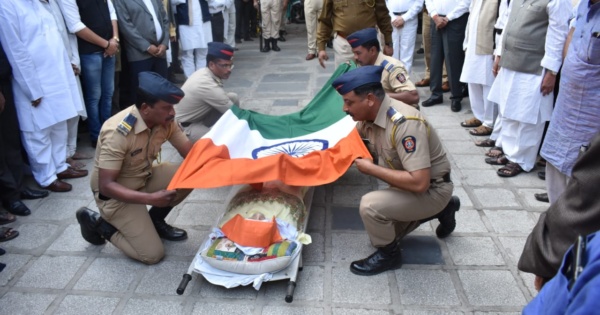 Union Minister Nitin Gadkari also condoled demise of Justice Dharmadhikari. In his condolence message, Gadkari said, "Justice Dharmadhikari was a true Gandhian and humanist. His lifelong mission was welfare of last man in the society. He was devoted to this cause till his last breath. During his tenure as Justice of High Court, he had delivered several historic rulings upholding rights of women, tribals, children, mentally disabled, prisoners and other deprived people.
In his landmark ruling during the Emergency, Justice Dharmadhikari had held that apart from constitutional rights, the Right to Life is natural and a human right, and therefore, even during the Emergency, a citizen could approach the High Court. Following the judgement, the then government was forced to release political as well as other prisoners against whom there no solid proofs. Justice Dharmadhikari had imbibed Gandhian values right from his childhood. He championed the cause of rural development, dignity of labour. I pay my respects to the abiding memory of late Justice Dharmadhikari and convey my deepest condolences to his family," Gadkari said.