More women in Maratha morcha, Nagpur bandh effective in parts

Nagpur: The call for state wide bandh given by Maratha community was effectively seen in various parts of Nagpur where the agitators resorted to road blockade and vandalisation of vehicles on Thursday. The police have tightened the security at various sensitive areas of Nagpur. As a result there was little reports of violence.
The shops remained shut at most of the places while vehicular movement too was thin on prominent roads in the city. The streets too appeared measly attended as compared to the kind of rush seen during normal week days.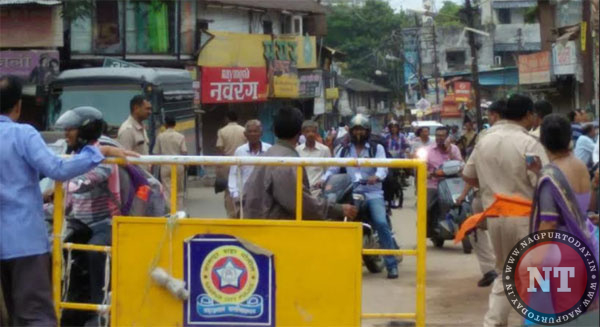 Meanwhile, there were reports of slight violent activities by the community members who forced the shopkeepers to shut their establishement. Few vehicles too have been damaged during the morcha which kickstarted with the aarti recitation by the women of agitating community.
Interestingly, this time women too have participated in large numbers.
Meanwhile, the areas like Mahal, CA Road, Wardhaman Nagar, Reshambagh, Ganeshpeth, Siraspeth and Siraspeth were almost closed.
Meanwhile, protesters from the Maratha community tried to block the Mankapur Ring Road. They also attempted to stop a train but failed after the Railway Protection Force intervened