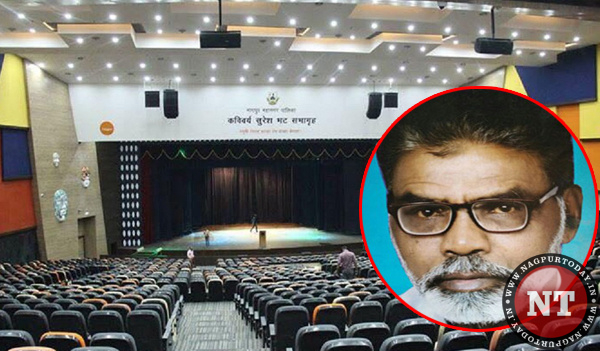 Nagpur: Former Corporator and promoter of an organisation named "Rashtriya Swayamsevak Sangh (RSS)" Janardan Moon has issued contempt notice to NMC's Sports Officer and In-Charge of Kavi Suresh Bhat Memorial Hall Harshal Hiwarkhedkar for disregarding the directives of High Court. According to Moon, the Nagpur Bench of Bombay High Court had directed the Nagpur Municipal Corporation to grant permission to his "RSS" for holding a discussion on the topic of 'ban on unregistered RSS' in Kavi Suresh Bhat Hall. But the NMC disregarded the High Court directive, Moon claimed in his contempt notice.
During the hearing on review petition filed by Moon, the High Court on April 17, 2018, had permitted the petitioner to hold his programme in NMC-owned Kavi Suresh Bhat Hall on April 29, 2018. The NMC was directed to provide registration form of the hall to Janardan Moon (petitioner) in this connection. Accordingly, the petitioner submitted an application to NMC's Sports Officer on April 17. Subsequently, the petitioner was informed by NMC that the slot "B" (12.30 pm to 3.30 pm) of the hall was available on April 29 and he will have to remit Rs 5900 towards rent and demand draft of Rs 15,000 as security deposit.
Accordingly, Moon went to the office of Sports Officer and In-Charge of Kavi Suresh Bhat Memorial Hall Harshal Hiwarkhedkar on April 19 for remitting the rent amount and the deposit. But without assigning any valid and lawful reason, the authority refused to accept the demand draft of the said deposit money, again. Earlier too he was sidelined without assigning any reason, Moon claimed.
The petitioner Moon further said that when he confronted the NMC authority in this regard, he was told that his organisation did not possess the copy of Charity Commissioner's certificate. However, there is no mention of this certificate anywhere in the order of High Court or written reply provided by the NMC. Hence he has accused the NMC of contempt of court and playing politics over the issue. Earlier also, the NMC has not taken note of his application for booking of the hall. Hence he had filed a review petition in the High Court on March 22.
—Swapnil Bhogekar