A chila is a famous breakfast recipe from North-India. It is often called the vegetarian omelet due to its appearance which bears close resemblance to the normal omelet. But the taste of a chila is entirely different and the health benefits are numerous.
Chila is generally prepared with besan or chickpea flour. It is prepared in the same manner as a dosa. Here in this recipe we have added a twist by preparing it with moong dal which is rich in proteins. To enhance the taste further we have added paneer which makes this breakfast recipe a lip-smacking delight. You can experiment with the recipe by adding nutritious vegetables to it.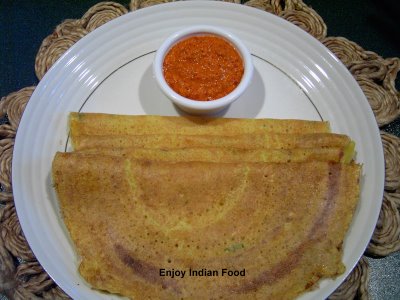 Check out the recipe for moong dal paneer chila.
Serves: 3-4
Preparation time: 15 minutes
Cooking time: 10 minutes
Ingredients
Moong dal flour- 1cup
Paneer- ½ cup (crumbled)
Ginger-garlic paste- 1tsp
Fruit salt- ½ tsp
Chaat masala- 1tsp
Hing (asafoetida)- a pinch
Green chilli- 2 (chopped)
Salt- as per taste
Water- ½ cup Oil- 2tbsp
Procedure
Mix chaat masala and salt to the grated paneer. Keep it aside.
Take moong dal flour, green chilli, ginger-garlic paste, salt, hing, fruit salt in a bowl and prepare a thick batter with water like the dosa batter.
Heat a non-stick tawa and pour a laddle full of the batter on it.
Spread it evenly to make thin pan cakes.
Spread the paneer mixture like a topping over it.
Pour one teaspoon of oil around the chila.
Fry it for about a minute on medium flame.
Now fold the chila from one side over the topping.
Once done, transfer it from the tawa to a serving plate. Repeat the same procedure to make more chilas.
Your moong dal paneer chilas are ready to be served. Enjoy this dish with ketchup or mint chutney.