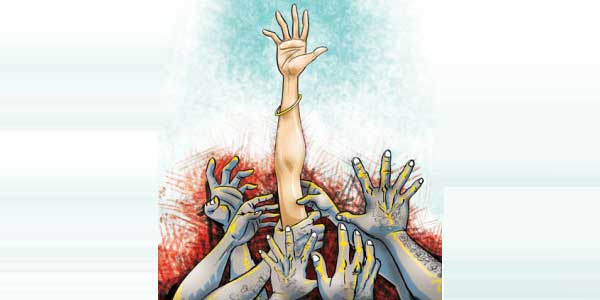 Cases of molestations are being registered everyday in the second capital, posing a threat to the security of girls in public places, work places, in schools and even at their own homes. And, the number of these cases is just on rise with every passing day. On Sunday, three more cases of molestations were registered in the Orange City under MIDC and Sakkardara police station areas.
In the first case, a 45-year-old man alleged outraged the modesty of a 24-year-old girl in MIDC area. The police said, the incident happened on Sunday at 1.30 pm when the accused Shreedhar Gopichand Masram (45), allegedly called the 24-year-old victim to his house and abused her and outraged her modesty. Shreedhar started beating her when the girl tried to shout for help, the girl said in her complaint.
MIDC police have booked Shreedhar Masram, a resident near Digdoh Devi Mandir, under Sections 341, 328, 292, and 354 (a) of the IPC.
In the second case, MIDC police arrested a 36-year-old man for molesting a 17-year-old minor girl. The incident took place at 2 pm on Sunday, when the 17-year-old girl was alone at her home. The accused, Gajanan Wamanrao Dhomne (36), a resident of Plot No. 329, near railway crossing, Durga Nagar, entered the victim's house when she was alone. Gajanan outraged the modesty of the girl with his abusive words and indecent act. When the girl started shouting for help, Gajanan ran away from there, the police said.
On the complaint of the 17-year-old victim, MIDC police arrested Gajanan on the charges of molestation under Sections 448, 354 (a) (1) (I) (V) read with sub section 8 of Protection of Children from Sexual Offences Act 2012. Further investigations are under way.
In the third case, a 38-year-old woman lodged a complaint with Sakkardara police against a 21-year-old youth for abusing and molesting her. The police said, the accused Swapnil Bhimrao Naik (21), was allegedly shouting in front of vicitm's house on Sunday at 8 pm. When the woman tried to stop him, Swapnil started abusing her and passed lewd comments. Swapnil also threatened to kill her if the woman objects to establish physical relation with him, the woman alleged.
On the complaint of the 38-year-old woman, Sakkardara police arrested Swapnil under Sections 354 (a) (I) (II) and 294 and 506 of the Criminal Law Amendment Act 2013.