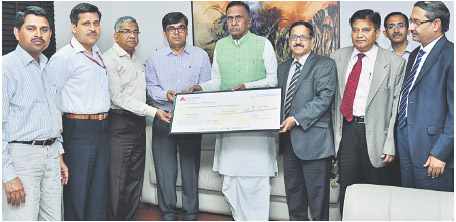 Nagpur News: Manganese Ore (India) Limited, a miniratna category-I PSU under the union Ministry of Steel, has declared 20 per cent interim dividend, for the year 2012-13.
The interim dividend cheque of ` 24.05 crore was presented to minister of steel at New Delhi Beni Prasad Verma by secretary to union ministry of steel, DRS Chaudhary. Special secretary and financial advisor in the ministry of steel, E K Bharat Bhushan, joint secretary Lokesh Chandra, director (commercial), A K Mehra, director (finance) M P Chaudhari of MOIL and other senior officials of the company were also present.
During the year 2012-13 (April to December 2012) the production of manganese ore was 8.02 lakh tonne which is 6.13 per cent higher as compared to that in the corresponding period last year.
The company has achieved a total sales turnover of ` 700.30 crore during the period.
It has earned profit before tax of ` 476.12 crores and profit after tax of ` 321.64 crores during the said period.
MOIL"s shares are listed on both National Stock Exchange of India Limited (NSE) and Bombay Stock Exchange Limited (BSE), Mumbai.
At present, MOIL"s paid-up capital is ` 168 crore out of which 71.57 per cent is held by government of India, 4.62 per cent by government of Maharashtra, 3.81 per cent by government of Madhya Pradesh and 20 per cent by public.